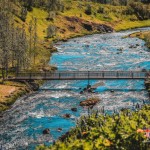 This is the 3rd day in Iceland. What should have been the highlight of this trip became the least interesting day. "F" roads were not opened and my last minute hopes that laugar would be open for driving dampened. I mentally had a plan B for day 3 to Thorsmork even that turned out to be open road driving crossing more than 10 actual rivers swelling with water. As I had seen enough to spike my adrenaline, wanted to have this day for leisure. Still we managed to explore few other places.
Below is just the place holder for my notes; if I ever go back to Icelanad, Laugar and Thorsmork is ON.
Landmannalaugar – go in F-road while going come back in non-F road
Haifoss – can be covered while going to landmannalugar – but check – 8kms
This is indeed one of the nicest waterfalls in Iceland. In the afternoon the waterfall gets sunlight but this makes it hard to take pictures off the canyon that is also very nice.
The road to it is maybe not easy to spot. Driving on the 32 from Reykjavik a few km BEFORE the hydro station and bridge there is a small sign (also same road to Guesthouse Hólaskógur) and you need to leave the 32. So if you cross the long bridge over the river or go on the 26 you are too far. The road is for 4×4 but it is just bumpy no river crossings and grip is good.
It is not so far from F208 entry to Landmannalaugar so if you stay in the neighborhood for a hike in Landmannalaugar it is nice to spend some time.
If landmannalaugar road is not opened, plan haifoss waterfall or south iceland. – AND THAT HAPPENED!
Hveragerdir earthquake town
This is a little town that got violantly shaken due to an earthquake in 2008. This town is mostly run by the geothermal hot springs energy. There are many hikes from this place. We drove around the down for a while and explored the Geo thermal park before we went back to Selfoss. This place is hardly 14 Kms from Selfoss.
Kerid Crater
Later that afternoon, we explored another place called Kerid. This was almost nothing compared to the previous days we had in Iceland but I would have had a 12 hour hike to see this if its not Iceland. 🙂
How it formed
The crater Kerid was formed about 6500 years ago and lies at the northern end of a row of craters. It is oval about 270 meter long, 170m wide and 55m deep. Volcanologists used to class Kerid as an explosion crater. Explosion craters are formed in explosive eruptions which sometimes leave deep craters. However, deeper studies of the Grimsnes area haev not revealed the existence of any ash deposits that could be traced to an explosive eruption in Kerid and it is now believed that it was originally a large scoria crater. It is clear that as much as half of the Tjarnarholahraun lava flowed in Kerid. Its present form, the crater was probably formed bya small magma chamber beneath the crater being emptied towards the end of the eruption resulting in a collapse.
AND, that completes Iceland trip. One of the most beautiful experiences I could hold. I loved that eerie and serene and everything it offered. I will go back, again, for sure. 🙂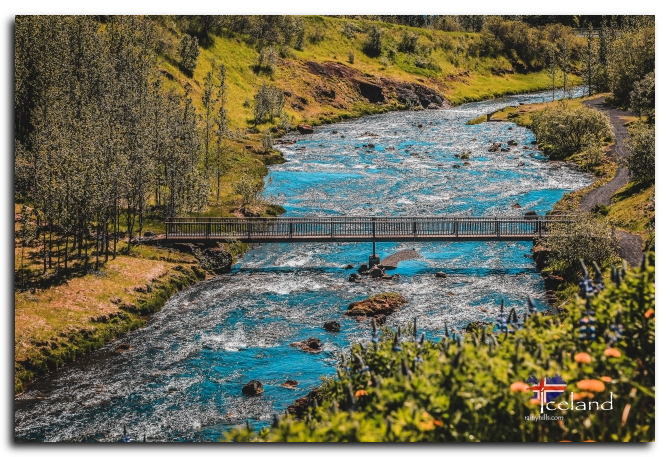 Hveragerdir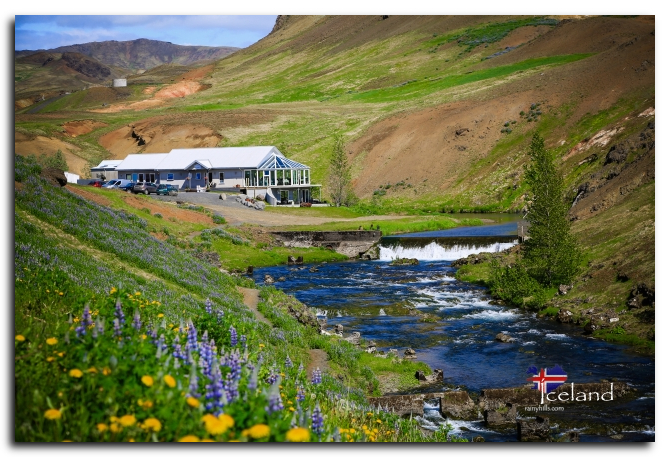 Hveragerdir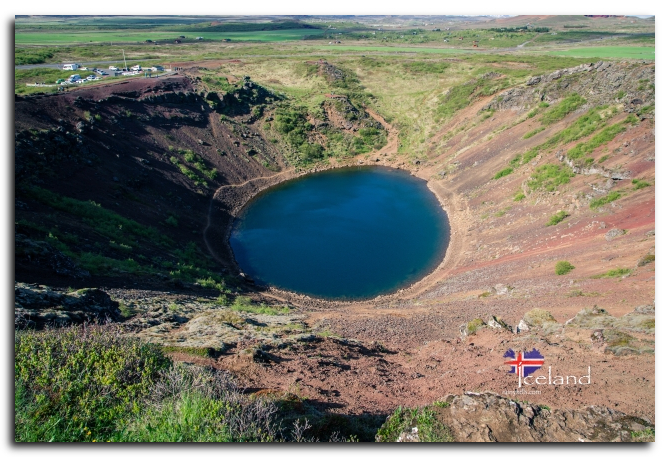 Kerid Crater