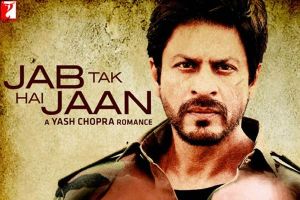 Let me be honest, I watch hindi movies rarely. Or I have started watching, 'coz I get the subtitles in English here. 😛
I was on a 'go for it' mood/mode over this weekend and watched "Poda Podi", "Thupakki" and on Sunday evening "Jab tak Hai Jaan". First movie should have been a straight to youtube or DVD type movie but a genuine effort. Second one was a perfect commercial and A.R.Murugadoss (Gajini – famous) gave a good treat to Vijay fans. Thought moving from a drama to a commercial film was good. Jab tak hai Jaan did some magic and the former vanished.
Where am I gonna start. 🙂
Saw my fellow facebookers weren't impressed much – so I didn't have any expectations. As usual, here is the way I recollect the movie!.
Yash Chopra
The name which really changed the bollywood and I know there are many die-hard fans for him – but they generally see him thru Sharukh and Kajol, including my wife. The plot starts eazy and takes spin at the very right moments when we start thinking where its gonna lead. I will never have capabilities of a movie critic – but what I can say for sure is, this guy knew the exact formula that would work. Lets see if am able to read out the recipe for the movie.
Cast selection – Sharukh and Katrina and as if thats not enough Anushka Sharma.
Music – A.R.Rehman – the name my generation never gonna forget.
Story – A plot of a regular guy after a broke up, joins Indian Army as a bomb diffuser – let it stay that way, am not throwing any more on that. 🙂
Sharukh may get old but never his charms. It gets better and better I should say. Only part that was bit tough was – the height difference between Katrina and Sharukh. It seems she is notably taller. 🙁 but its hardly noticeable. Or may be its because I was glued to her mostly. 😛 Honestly, I felt Sharukh should choose to act more matured roles (just like the Army-major role in the same movie) which would portray him better. Its bit hard to agree for singing with Guitar – or its still reminding me those previous ones.
Katrina Kaif – Kat. Kat. Kat. All I knew was she was a model and a homely looking pretty face. She broke that when I saw her Sheila Ki Jawani song for 4 times in my flight back to Chennai. On that vacation I even downlowaded a high definition song on a slow internet to show to my friends – as the dance and the music was awesome! While I thought that was her best, she went on to sizzle with Chikki Chameli song in "Agneepath" which I thought was just average. As if somebody told her that, she came back in this movie – as a complete winner without allowing anyone could even do near to that. As I wrote in my previous entries – whoever catches our attention first- be it story, the actor, or the music – they are the true winners. Here ARR's music and Kat's moves, am sure coulddnt have asked for more. I got more than what I paid for there itself. 🙂
Music – May be I should have shoved it above Kat's. I love him. Music glides in this movie with the picture perfect cinematography. Am one of those who worship him. Am his fan from his first movie. I will forever be.
Anushka Sharma – First, she is a temptation for all of us to start working out – to get the least of her energy. She adds fresh energy to the movie and almost wins in pulling the movie to her side. Without any doubts, she even makes a threat to the divine-portrayed-love of Sharukh's.
Lastly, I hate those movies that make me to cry. Either am oversensitive or its really that good. Generally I dont get into the argument as I will be bit biased always. This movie, made me to – not once, not twice but at least thrice. Fine – I hear, shame on you. Let it be. I liked it, I went with it and fell for it. So I paid the price for it. Only trouble is the last tissue that you have turns wet. 😐
Is it Army or the Story or the music, am not sure, but – together, will win your heart without a doubt. Go for it.
.. and am not taking that bomb diffuser job ever!