What happens when you eat your lunch alone!
|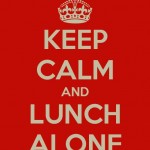 Am not Anti-Social at all, if at all the title raises your brow.
If you are in a large team and generally eat with them, you will not agree with what am talking. At all!
While I wanted to write about 1000 different things here, this came out of nowhere. It was a typical work day with load of work, still I told myself that am gonna be slow at lunch (which would atleast change my express style into normal).
Generally, I go and hog my food (please DO assume a hog, hogging) and get back to the desk with the thoughts of the meetings that I got for rest of the day.
But today, I wished that I use atleast half of the time allocated time for the lunch.
Right after getting down the entire 23 floors in less than 7 seconds, sun soaked me with its warm rays of comfort. The same weather torches you if you hadnt spent the morning inside the airconditioned walls. I waited for the signal to clear and walked to asia square and decided to have my lunch in Soup spoon. Generally I settle just with soup when I go there; but this time, I made it a meal by adding an half wrap of chicken with peach & ice lemon tea.
I sat in the bar stool area which has a long desk facing the tinted glass panels. I was at 2 floors of height and gave a large canvas of moving people. I just love to observe people from a distance. Everyone is unique. Just the way they look, their walk, behaviour and 100 things that distinquishes them.
I nibbled at my food, chewing real slow. It just hit me so hard that why I didnt do that so for. When I was doing it slow, rest of them seemed to be rushing – just like the way I used to be. I was not sure what I/we was/were achieving by rushing, but am sure what am doing to my mind. Something called stress.
Just because I took it slow and alone and keeping everything to me and my thoughts, I was happy and felt am feeling better than the rest.
Funny, how the brain convinces us. 🙂