I never wanted to have an entry here quoting my own birthday.. Surprises come in lifer and here I am; writing one for my own birthday. And who made me? Its my wife Thenmozhi..
She has advised long back to take leave on my birthday (5th Nov) and with little resistence I accepted. Despite the fact that am not interested to celebrate my own birthday, she persuaded me to be totally unaware of the total plan for the day. Well – I accepted that part also.
Secrets are the most interesting puzzles for scropions, but this time I went with the flow; didnt want to crack it before it comes to my table. alright!
She surprised me saying that we will board the Super star Virgo Cruise on a 2 night trip to Malaca and KL in Malaysia. Somehow they were in my list and let myself to catch the excitement. When I bragged about my opinion of celebrating my own birthday 'these' ways, Thenmozhi confessed a little more thing as well which was a need of a break in her hectic office life. So what, she didnt plan on some other days, she wanted this to happen on 'My Day'..
4th Nov
Plan was to leave early from the office and check-in before 10:30 PM. I made it to home only by 8:45 PM got ready in 10 mins. With much patience, we started from home and it was raining heavily already. It good we can get a taxi without getting drenched. We got a Taxi and reached harborFront, from where cruise starts.
Have to talk about the cruise a lottttt.. But, wait.. I dont own it, so just little information. Super star Virgo is the biggest of their rest of the cruises with 13 decks of wonderful options to 'live' life. It has a open-sky pool at 12th deck. 5-6 restaurents, theatresm, dics, pubs, fitness centres, gaming centres, casinos and what nots of a 7 star hotel.
okay – we are there. When we got dropped off from the Taxi, I just had a quick look around and got my luggages and something was little differnt in my surroundings.. Again looked at them and found the as usual singapore of 1000s of lights around the buildings. Little I know one side was sea and the 100s of light were from the gigantic ship which is no less then a good corporate building just like the other sides. OMG – she is gorgeous. No doubt.
We quickly checked-in and got our Balcony class admission cards. (Yellow – Admiral class, Red – Balcony class, Blue – World Cruisers). She quickly ran and ordered a veggie delight personal pan pizza for me (just for me, she plays it always safe when it comes to cheese) while I negotiated some money with my card and pin at a ATM.
I felt like I was walking from immigration to another building but within 10 meters, I realized am stepping in the ship. Palace is a misleading word to compare the ship. With a welcome drink (is white wine + Champagne also a cocktail…grrrr) we headed to 11th deck. 3 massive beautiful lifts serve the place. Actually in ship, I boarded 7th floor directly.. 😛 we headed to our room. which was a small but excellant piece of ship where minute care was given to each and everything. Its really makes me to stand and salute to human engineering who made possible to these luxury ships. Its big.. really big.. 2000 people can travel on it. in no time I hogged garlic bread and pizza and slowly started to settle down. Made quick calls to mom and told I wont be around. Then sat, its kind of series of jolts when the ship is pulled by tugboat. Will remind everyone of the earthquakes only difference is excitement not the panic.
Casova cake – this is one of fav cake which is bit tough to get anywhere. Somehow Thenmozhi managed to get and am with the cake when the time ticked to 12. Great., with a stirrer we managed to cut the cake and then started worried as I realized am becoming 30.. OMG.. 30 starts.. almost of avergage Indian life is gone.. well, I am postponing this to worry later. with enough casova cake we called it a day and started sleeping with sweet pushes of ship with tides.
Offlate I had messed with my sleep again which makes me an night owl and puts me in grave danger at day time. well I thought I would sleep. I did.. for 2 hours. Then – up – totally up.. hmmm.. no internet.. came out to Balcony and sat a while. Ship was speeding now and I could feel it was almost would compete to a bus in India.
Actually am a die-hard fan of Seas. Whatever makes you to keep you interested till last, with lots of mystries in it and lots of pleasure in it, no-ways-we-would-stop-loving-them.. Seas is one of them. I love tides but seldom interested in dipping my legs in it. That would disturb me listenng to what Tides to talk to sands. And in the middle of the sea, god, I have no words to explain what and all they have. Today – with my sleep messed, I looked at the sea and the tides. Yes – Tides made by the ship as it speeds. It tears the water and takes a good breadth in expanding it and that creates a quick but streamy like tides away from the ship. They were quire impressive. The sounds, the flow, the air, the crispyness in the air, cool-warm & warm-cool feeling in the air, night, distance lighthouses of Indonesia, cargo ships – damn!! I have no idea how much time I stood there.. And slowly went back and shoved myself between the bed and blanket.
Mornings.. always beautiful.. But I never make it.
No difference today too.
9:30 am it was when I was ready for breakfast.. well after checking at couple of restaurents, we settled at mediternan breakfast.. if any form of egg, chicken sausage, potato (hashbrown or smashed) – I would say best breakfast.. Well, had greak salad some cakes, fruits, Orange juice went along with that. with a little roaming around the ship I ended back to my room to continue my sleep.
Ship was scheduled to stop in Malacca between 7 and 9 am. But didnt see it stopped there. 😀
After little bit ship exploration, we readied ourself for the city tour. Ship stopped at the KL dedicated port of Star Cruises and there was little smaller than ours, Pisces was standing magnificently. Interestingly no Visa/Immigration processes for us. It was really surprising. Seems to save the time, Star cruise itself handles all the immigration seamlessly. That really saves time. 😉
As we have covered the KL highlights in our earlier trips, we opted for shopping tour in which they leave us in the city center where many malls around and would pick at the end of the day. With one strong black coffee, I gained my energy for next 8 hours. Shopped till we were tired and decided to go to to pick-up point. We later returned to the ship and tried the Indian restaurant "Taj". Taste was quite delicious and I was badly in need of that.. I ended the day with Singapore Sling and called it a day by watching the waves talking to the ships. Next day was almost eventless; We ended the trip with another round of ship exploration.
Despite all the fun, something is really haunting.. am getting aged.. :'(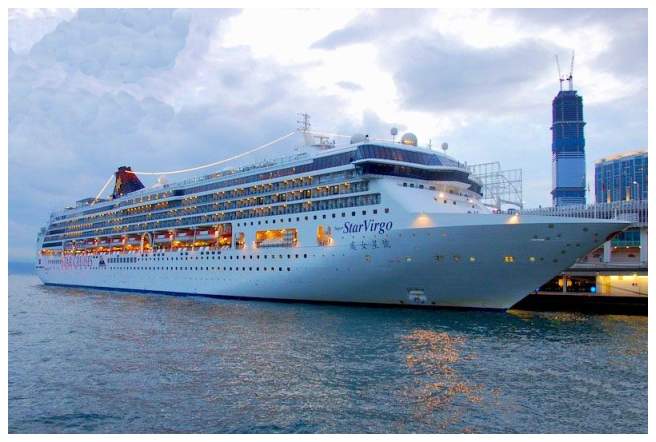 Superstar Virgo