Now you see me – what did I see? :O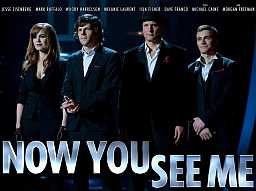 Movies are all about entertainment, isn't it!. Over a period of time, entertainment mediums changing rapidly to keep audience enthused. One of the half dead medium is Magic. See this movie, and all you will feel is, there is still HOPE for it. Not like the way Obama says it though. 😛
Movie starts with street pranks of 4 individual skilled and gives you no break until 3/4th of the movie. I was all grin and felt like a kid glued to the party magician's acts. I shouldn't call them magicians – but better illusionists.
Jesse eisenberg – started liking him from the Social Network for his way of delivering 10 words in 2 seconds. 😛 Mark Ruffalo finally got a decent role!. Woody Harrelson tries to hypnotize us, but did he? Am not sure. Isla fisher, poor gal got a very little to do but did everything possible. Dave Franco I must mention for his wicked smile. And heartening to see Morgan freeman is getting older and older. I just wish he goes back to 10 years.
Story is what you will love – those real life illusions are best I have every seen and pretty convincing. However, last 30 mins of the movie, either I lost the track or something happened, couldn't feel the same way I felt for 90 mins. May be it was a roller coaster ride in the first 90 mins.
Its worth every frame. Music was awesome. Script is almost believable. Decent acting. Just wished the movie was longer, even after 2 hours. 😀
Sharp dialogues! go for it.
3.5/5
About The Author
Raj