I couldn't wait to pen down this write-up. 'Coz – am too excited about this or the lessons learnt from the NZ articles that took 6 months to complete.
It's the time of the year for "Parents Trip". (And completion of some exams, ofcourse). While I was scratching my head about it, Island resorts near the Mangalore (Karnataka) tried to end my scratching. Just in time, Irwin's engagement fell in place and got scheduled to happen in Madurai on 27th Aug 2011. Well – that limited our options (for good). 😉
Madurai is a true tourist destination by all means. However, our choices of off-beat places near to it are very minimal. Kubhi, Vinoth and I were working on this parents-trip over last month. Vinoth quickly accommodated changes and suggested we could go to Tiruchendur and reduce the parent's trip for 2 days. I was blinking like a lemur that got stranded between two thick branches of a tree. I had no other options than accepting it. Irwin – all for you!
It was planned to leave Bangalore on 25th Aug night in train to Madurai and tickets booked all the way to Tuticorin (in Tuticorin express). Upon checking the time that reaches Tuticorin, I was pale as that further reduced parents trip time to just one day! We quickly got into discussion mode and I suggested that lets plan to go to Kalakkad-Mundanthurai tiger reserve and cover the nearby places. Kubhi quickly shared few links that he sent when he was in London. As per the new plan, we will get down at Maniyachi Train station and the parents trip to start from that place. Somehow all agreed to this and it wasn't hard for me to fix the schedule.
As I guessed, options to stay were worse in papanasam area. After browsing for hours, Govt Forest Bungalow promised to hold our herd of at least 15 people. I pestered Vinoth and Kubhi to check with Tirunelveli Forest office. They referred us to Ambasamudram Forest Office (04634-250594) and after constant follow ups, they confirmed the reservation. This area has lots of interesting places that are in the western ghat forest range that requires prior permission to enter. Our reservation for the forest bungalow reservation doubled as the permission letter to enter the forest.
Praveen was left with the task of booking bus and train tickets which he completed in no time.
Kubhi quickly helped us to book the vehicle for the trip from Madurai and Ramesh Kannan (the great!) has been destined to bring it from Madurai to Maniyachi that day. That's all the pre-work. 😉
Pre-tour days
I landed in Chennai on 20th Aug afternoon and a bit of transit time until my next flight to Bangalore. Uma (the doggg!), on & off proof reader of this website – met me and drove me to a temple before dropping me back in the airport. Thanks for being nice always dogg!!.. 😉 You are such a host! (As you threatened I wrote here. Is it enough, or should I write more dogg?)
I nagged the next seat passenger as she was 'coding' on a 30 min flight. Deadline was the answer. I curbed my thought to pullout my ipad and settled with could-watching. I like when the wind takes revenge on the clouds. They set patterns and makes it to look like something I can't explain. 😉 That day, clouds made some moguls and near-pyramids. In no time, the place where I call most favorite on earth, flight reached. Dad and Vijay picked me up and a worst of worst Bangalore traffic allowed us to reach Silkboard after 2 hours. It took hardly 1.5 hours to reach hometown after that. 
On Sunday, we managed to visit dad's hometown temple which I see after many years. The place hasn't changed but the temple on the small mount. I still recollect the dangerous way to reach that temple in those earlier days. It's a total granite mount and on top of that there was a very small temple. Now, there are more than 4 temples with proper stairs. Little I wished that it was as it was earlier. 
Dad shown me some the carvings he did on those rocks when he was young. Time is still trying to erase it and succeeding slowly. Familiar faces and dad's friends went gaga to meet us. It was goodtime out there.
We had gala time at Malgudi Restaurant at Maratahalli on the eve of the trip.
Parents Trip
There were few last minute pullouts as usual. I was convinced that the parents joining their sons will have good time. And it was.
As usual, our guys joined us at Cantonment railway station just in time to the train. I couldn't believe that it was a train station as it was kept very neat. Bakery World – a newly opened bakery was extremely tempting with its baking smell. We bought almost all possible things and finished in no time. I wish I had an empty stomach so that I would have tried more items. 😛 While we were checking out this, Vinoth and KasuriRengan packed enough food that could serve us twice. 
Train was on time and we hopped on. At times, we wish we get a compartment just for us. Next time, we should ask. 😉 Am sure by the way we are growing, we need a train in 20 years. 😛
As the train started, packs were opened. I was promptly given the job of serving and holding chutney and curry packets until they finished. Bit later, dad and mom joined from Hosur. We had to scatter to our berths as it was time to give the seats to the actual persons who reserved those seats. 😛
While Vijay and Vinoth complained about the person who snored beneath them, I slept hugging my DSLR bag (can't afford to lose it). Arun's parents joined from Salem while we asleep. Next morning, Vinoth and Co, promptly bought the breakfast and kept it ready. As this was a long train, we were bit past the breakfast time. Irwin and Joy got down at Madurai.
Ramesh advised us to get down in Kovilpatti itself as the driver suggested. We adhered and there starts the real trip with our complete strength!
We got a decent looking mini airbus with push back seats. I had the plan to visit Manjolai for the first day and settle at the forest bungalow at papanasam and to explore the nearby places next day. All these places covered in this trip fall in Tirunelveli district.
First blow – Driver said he can't take us to the Manjolai as he never did in his 'history'. 
He tried to convince and detailed a plan that covered just half of the places that I had in my mind. While I was thinking about it, Dad rescued my with a contact of his friend whose hometown is AmbaSamudram. The Contact – Sudhagar (9003893140), who works in one of the police battalions and also runs a homecare for elders (Anbu Old age Home). He was friendly, eager to help us and had an attitude of make-enemy-a-friend. Without him, this trip wouldn't be that interesting. 😉
While we collected our printed letter from the Forest Ranger's office for the night stay, Sudhagar explained the options and recommended Manjolai for some other trip with a different vehicle as ours was reluctant. It's good to mention that AmbaSamudram is famous for its "Kai Murukku" a rice cracker. Kallidaikurichi famous for its appalams (papad).
We were recommended to have our lunch at Baskar's restaurant at Kallidaikurichi (3Kms from Ambasamudram) as the papanasam didn't have anything good enough for our guys. This restaurant also runs a lodge in the same place. Food was good enough to complete it fully. 😉
As the Manjolai plan skipped (am sure I will write in this site soon), Sudhagar suggested that we drive to Manimutharu falls first.
Kalakkad Mundanthurai Tiger reserve
Actually these are two different reserves that got merged in 1988. I somewhere read that Govt allotted 2 crores for this reserve. Am wondering where that money is and how it's being spent. 😕 This place is rich with 14 rivers and numerous streams. There are many dams that control water and also produce electricity through Hydel projects.
Manimutharu Dam and falls
Our first stop was at Manimutharu falls. To reach this falls, we have to get the permission at the forest checkpost at the Manimutharu dam entrance. This dam looks huge and with 1/3 of water it looked even bigger. We were advised not to leave any plastic bags. Good that these places are changing.
Overflow of this Dam joins the overflow of Karaiyar Dam that joins Papanasam Dam and makes the Tamirabarani River bigger. This place being the collector of most possible water that flows from the hillocks, never goes dry. This makes this entire place look green all the time. Many films are made here for this greenery.
However, at this time (August) Manimutharu hills were dry with dried leafs. It was dangerously close to a forest fire as the sun was shining and playing all possible tricks to make some fire.
Falls can be reached after driving 5 KMs along the road overseeing dam. This place is another spectacular example of how good looking the place is and how worse its being maintained. Unless India steps up in making tourism better, these places will be gone in no time.
If visited at right times, the entire falls can be ours totally. Falls is divided in such a way to give privacy to ladies. That's one thing to appreciate. A plain rock that's of 50 feet with micro pools pours so much of water. Somehow those rocks have been carved to have a good forceful shower for us. In front of the falls, there is a big whirlpool which is of 80 feet deep and looks mysteriously beautiful. It even shows the symptoms of its danger by looking very calm. It seems that place was used by the police training camp for diving training which was stopped after an accident.
We got ourselves into the falls in no time. It's been ages since I gave my head to waterfalls. As the falls had right amount of water, it gave us an experience of a life time. Water was chilling but not cold and could feel the freshness in it. Every second under the falls was nice soft power punches which made us to go back again and again.
After an hour or so, we found some more visitors and convinced ourselves that's enough play-time at that falls. We even tried to go up and got warned by the guard there. Later I saw something painted vaguely on the rocks not to climb up. 😛
After this, on our way to the forest guest house, we saw the Thalayanai Dam (Translates to Pillow dam) from the AmbaSamudram-papanasam-upper-dam-road. This is truly one of the most beautiful water cascading I have ever seen. It's not even a dam but has a boundary to control water. And the boundary is a cool concrete of more than a kilometer geometrically built. Overflow of the water from this concrete wall cascades to the lower stages. It's quite a scene to watch. No wonder many Tamil movies used this place. We had a nice photo session here and I tried every possible way to click Vinoth looking-slim but failed badly. 
On our left, there was a beautiful waterfall across the valley. We learned that that's the agastiyar (agastiya) falls where the saint meditated. Just above that another falls and learned it was called Kalyana falls. Agastiyar temple is located there.
Papanasam Hydroelectric plant sits at the valley as we proceeded. This place is restricted even for pictures. Papanasam lower dam serves enough water in three biggest tunnel tubes to produce the electricity year around. Little above on the hillocks, we saw a micro town and learned that all belong to Govt Electricity Board and the quarters are for their employees. What a nice place to live for them. Its beautiful.
As we passed we saw few peacocks and wondered how does it manage to carry that much weight and fly (while its pretty tough even to walk for us). 😛
After few Kilometers of drive, we reached Forest office. Even this has some cluster homes but with enough space in between them. We were given with the keys and told that the Forest bungalow is bit far. We travelled back and found a bridge that was made with iron plate without any handrails or fence to guard but with a notice to drive slowly. This place looks very beautiful with the quite turquoise blue water flow. There are concrete blocks here and there and we were told that the same river did that to the previous concrete bridge. Hmmmm.
Our Forest guest house looked better than I thought. It has double layered beds in dormitory style. Each dormitory room can sleep 8 persons comfortably. We got both the dormitory rooms for us (as we reserved earlier). This looks like a haunted house but gives nice vibes. Best with our loved ones in gang. There is a shortcut from this guest house to the river but its not offering any views. 😛 Dinner to be cooked by the people there and we agreed to get the necessary things from the town.
As we still had the evening for ourselves, Sudhagar advised us to visit Agastiyar falls and take bath (again) until 7. KasturiRengan happily accepted to accompany him to the town to fetch stuffs for cooking. Poor vegetarian guy accepted to buy Chicken and other stuffs. 😛
Again, we got this falls all for ourselves. This time, falls was even better. More water and more power. Right at the end of the falls we found a way to pass through. That took us to a plain filled with rocks and also a stream with small falls. I wondered how dangerous that would be to visit that place during monsoon. Vijay and dad further explored and found a Thaazam poo plant. (I have no clue whats that called in English – it's a flower that's scent is too good and good enough to attract snakes!).
Waterfalls bath reluctantly got ended after an hour of pure powerful water massage. Was it our assumption or not – we felt the water was increasing as the time progressed.
Just in time, Sudhagar and KasturiRengan came back with the groceries. We got into the bus with the stuffs bought. It had eggs and I have no idea who broke it. (Anyhow that turned into egg fry later.) Kasturi also said that while buying the chicken, butler also offered Rabbit meat. He declined without having any ideas that he would get beaten for what he did. Except Chicken, meats are big no-no for me. However, Rabbit meat being a rarity and quite famous for its taste, I would have bought that. He didn't. That's a lesson learnt not to send a vegetarian to a Meat shop. However, he is too good for our guys to volunteer to shop meat for our guys. We should thank him for that.. 😉
Sudhagar and Kasturi drove ahead of us in a motorbike while we relied on the minibus. It was pitch black dark and the best part is, it's the forest!. On top of that, it's a tiger sanctuary. Our guys were teasing that the KasturiRengan is riding with atmost fear. Sudhagar, slowed down every now and then whenever he saw plain as that will be nice place to spot animals.
We reached our guest house and settled a bit. This bungalow has a nice open space right in front of it with many cement benches. We picked some 10 chairs and sat in circle with our snacks. For the two day trip, we had 5 days' worth of snacks. We were badly in need of that as the bath kept us ever hungry.
Generally, this is the time, I get into camp-fire mode (refer other parents trip/ new year trip articles here if its not making sense. 😉 ). However, wanted to play along and kept the chat light. Ramesh Kannan who is responsible for people engagement tried to initiate a game. But even before the start, Sudhagar started speaking and that lasted more than an hour. He kept the bits and pieces of information interesting enough. He talked about himself and even encouraged an ice breaking. We just played along genuinely as its quite rare to see such enthusiasm.
He even managed to scare us with the stories about that place and how worse is that forest. Every now and then he "issssh"-ed and used Led torch to observe the environment. Also we learned that during rainy times, animals totally loved the roads in the nights as the tar road kept them warm. It made sense and not even Nat Geo or Discovery channel said this to us. 
He went on to talk about lots of myths and medicines. Its worth listening to him no matter whether we going to follow or not. 😛
Little later, when it was time for dinner, we took the shortcut from the forest bungalow to the forest office for dinner with the help of LED torches. Near the bridge, we switched off the torches to see how beautiful that place was. Now I recollect and wish am there now to see again. But was little scared as it was open and we were deep in forest. 😛
Right after crossing the bridge, we got to see the deer. They call it as Nila. There were dotted deer too. In that night, their eyes were glowing like powerful lights in red color.
A friendly family cooked the dinner for us that night and kept it ready for us. We had chicken 65, chicken curry, rasam, curd, and potato fry. Do you think it could get any better at that place? And it tasted really good. We sat infront of the house in circle and had dinner at moonlight. These are the dinners I really count. Just to extend the dinner time, we ate more. 😉
Night Safari
Right after our dinner, Sudhagar got us for a night safari on the road. Even before the start, we saw a small python trying to cross the road. Our guys tried to get near to it for taking pics. It was shy and vanished in the bushes. We wish the driver co-operated a bit better by driving slowly. First, we took the Servalar dam road. As the driver drove too fast, we couldn't see any. His efforts went in vain.
Baana Theertham falls
Next day morning, right after our morning tea, we went to Karaiyar dam. This dam is also known as papanasam dam. A nearby hill is called as Podhigai Hill. After a little walk (we managed to bypass plenty of walk by driving right near to the ticketing booth.
Boats run as per the demand. They take us to the other end of the dam where the baana theertham (or Vaana theertham) falls feasts our eyes. We were lucky enough to spot a full grown crocodile on one of the islets of the dam. After 15 minutes of boat ride, we got down at the other end of the dam. Dam's edges boasted the lines of the water capacity and hinted on how they would look during monsoon period.
After the boat ride, there was a little walk say for 20 mins. That takes us to the second layer of the falls as the first layer is quite dangerous. This waterfall is the mother all the other falls we enjoyed. This pretty gorgeous and even with minimal water, it was showing its might. For public access, a smallest part is allowed that doesn't hurt much. Luckily there were only few people and they left as we entered. Good that we were bit early. Again, good time.. 😉
Sudhagar managed to persuade the guard and took us on top of the falls. This is extremely dangerous. Rocks are dry and trustable but the moment its wet, its extremely slippery. Somehow we managed to reach the top and looked how that mighty waterfall deposits that much of water. Right at the other end, we learned that Injikudi (a tribal group) lived. As the weather was in complete foul mood, it was drizzling for seconds and shining for the next minute. We had to put extra efforts to climb down safely.
Sori Muthu Ayyanar temple.
On our back, we had a stopover at this temple. This is one of the famous temples with Ayyappan pilgrimages. This beautiful temple sits on the banks of Tamirabarani River and offers spectacular views. We all got tempted to take a dip again. However, resisted as we were hungry. This temple attracts 12 lakh people on a particular Tamil month (Thai). Singampatty Zameen (The raja of Singampatty) honoured at this festival every year.
While we were wondering whereabouts of Vinoth and KasturiRengan, they hided themselves in one of the places that sold vada and other eatables. 😛
Breakfast was waiting for us back in the guest house. We indulged again. Shortly after that, we packed our stuff and prepared to checkout(??!!) that bungalow. It's a perfect proof that even government bungalows can bring such happy time.
Unfortunately that good old papanasam Sivan temple was closed by the time we visited there. After bidding bye to the ever-friendly Sudhagar, we were on the highways to reach Madurai. Annachie Mess (Annachi Mess) was on the way near Tirunelveli that served nice food. 😉
It took almost all afternoon to reach Madurai. Our initial plans to visit Ramesh's home got postponed as it could delay the time we reach Irwin's engagement. Luckily we were on time. We managed to refresh ourselves with wet tissues and reached the church. Its quite a different experience for us to attend a Christian engagement. Along with those pastors we wished them for their marriage. Now am sure, your wishes reach them too.
…. We are all tempted to have the New Year trip near this place again to cover the missed places. Let's see what am going to write. :o)

Download Parents Trip Slides here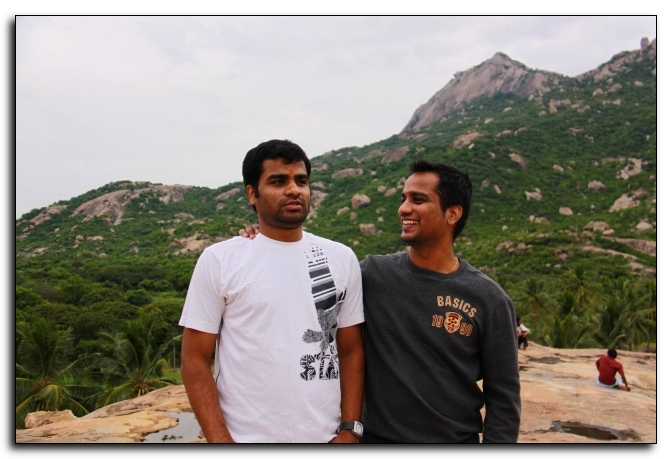 At Dad's hometown temple. Vijay and me. 😉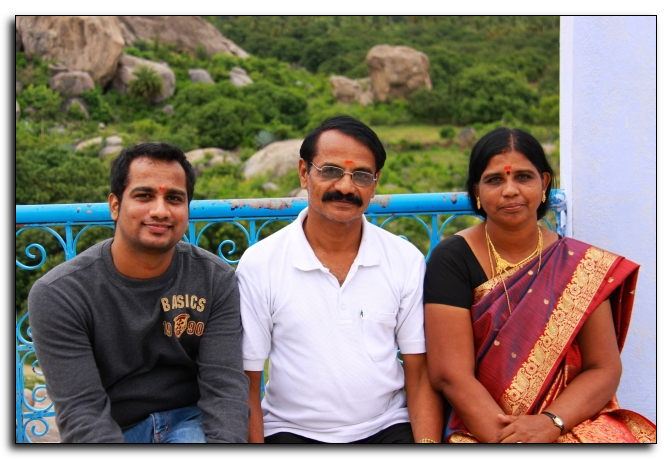 As much as I like, I miss Vijay in this picture. He was not in mood. 😛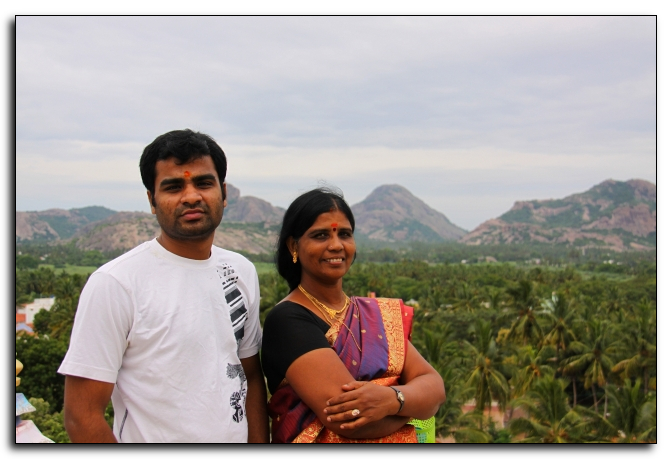 Consolation pose.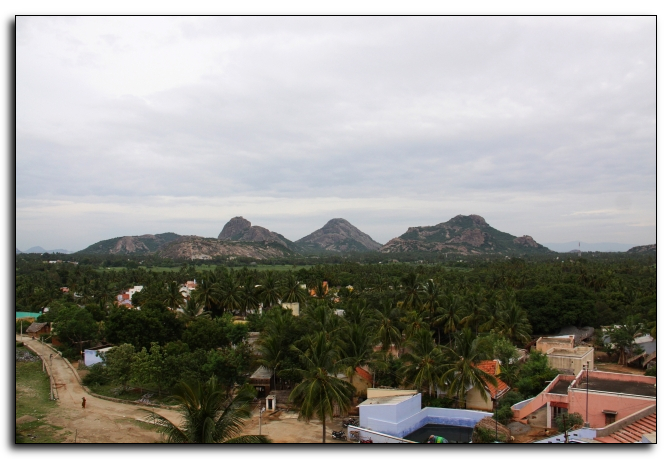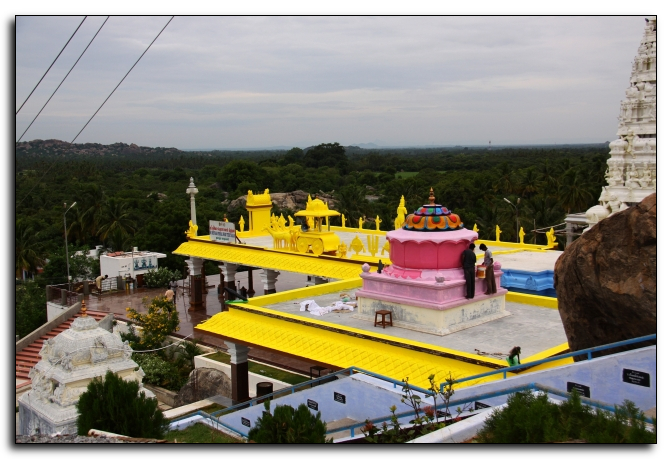 Aigondham Pudhur – Temple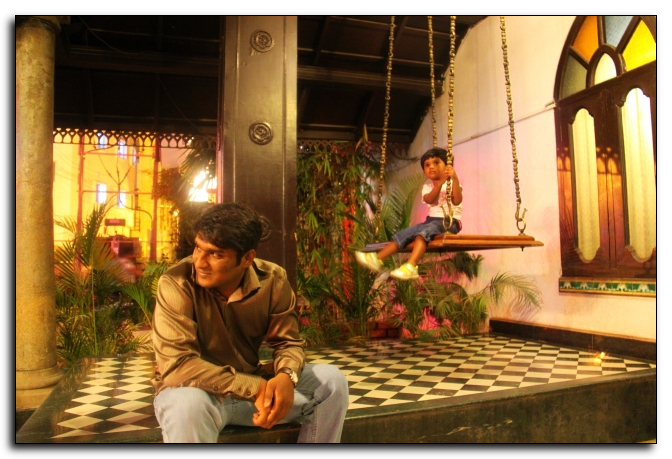 Malgudi Restaurent – Maratahalli. Bangalore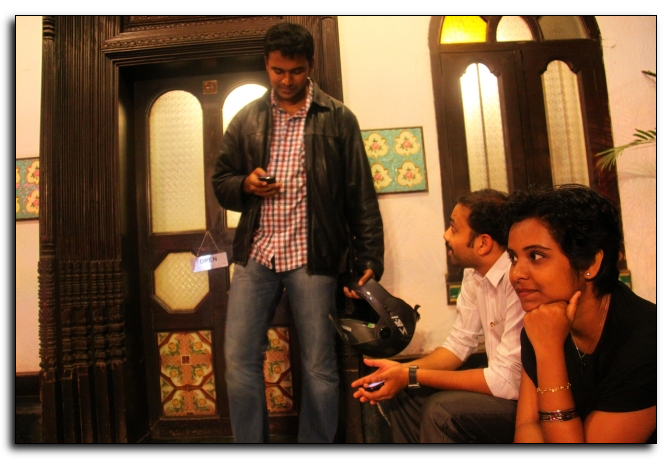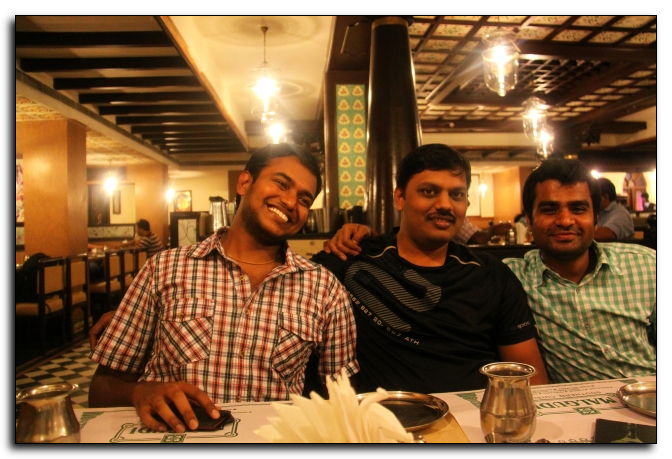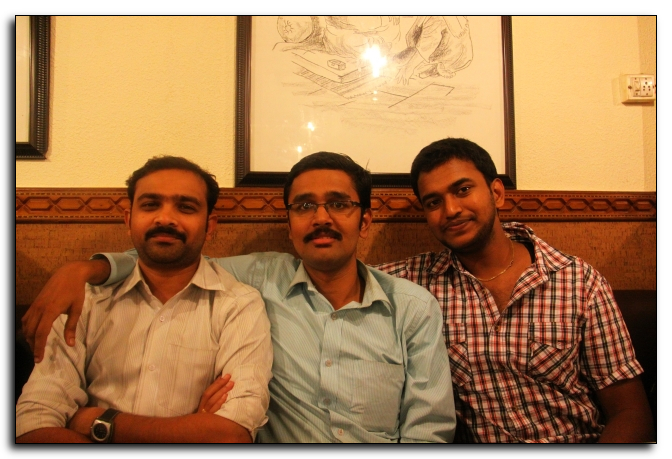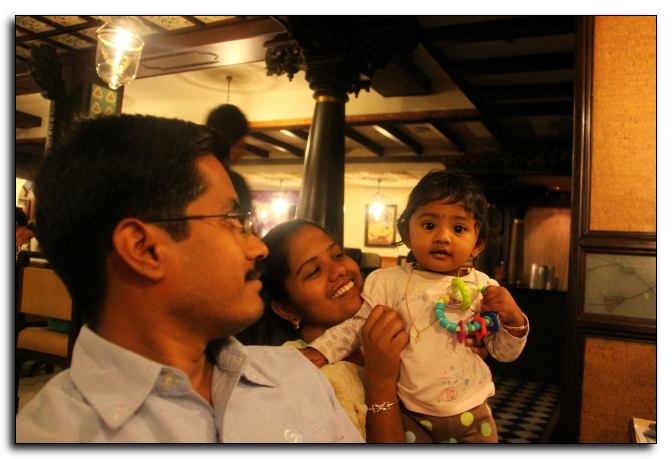 Diyaaaaaaaa!!!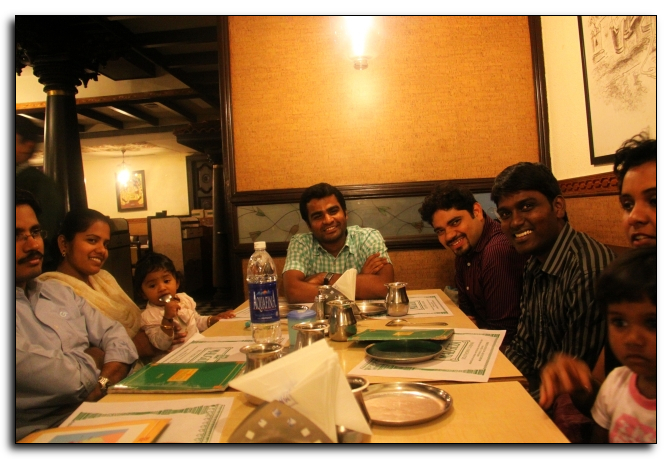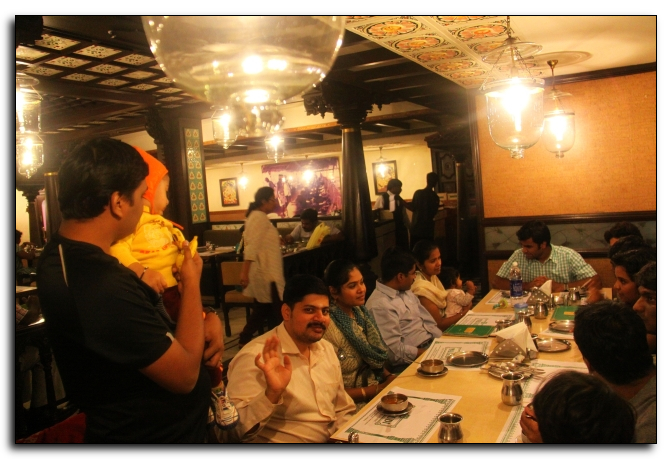 Anirudh (Vinoth's son) watching his papa.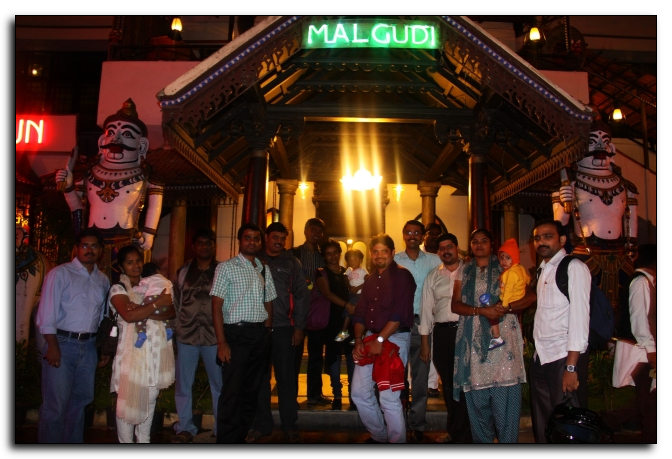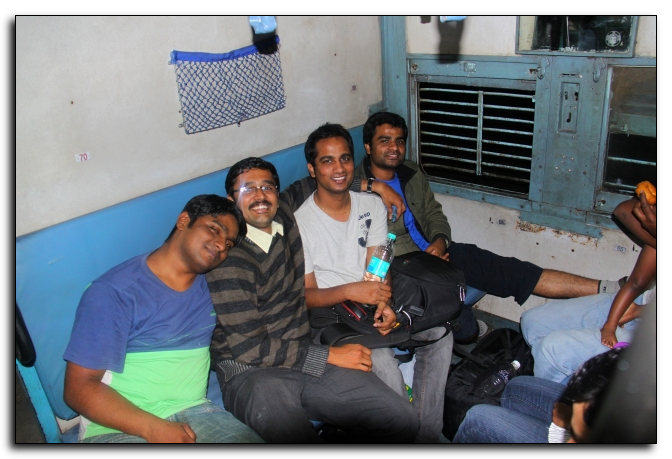 Bangalore – Maniyachi train (as per the plan)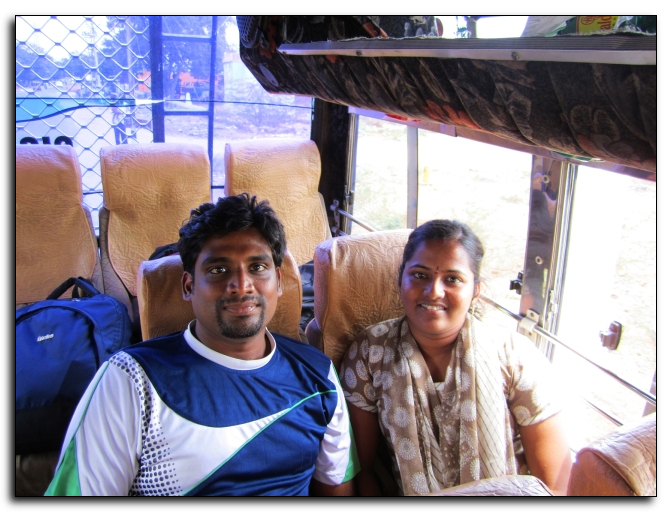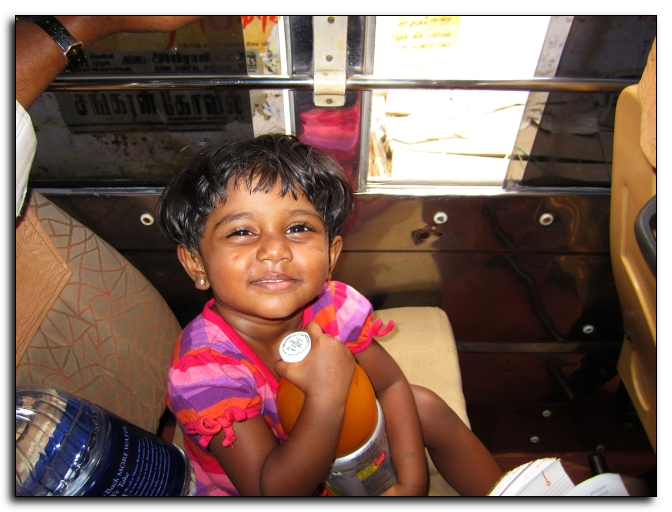 Sweetheart Zinia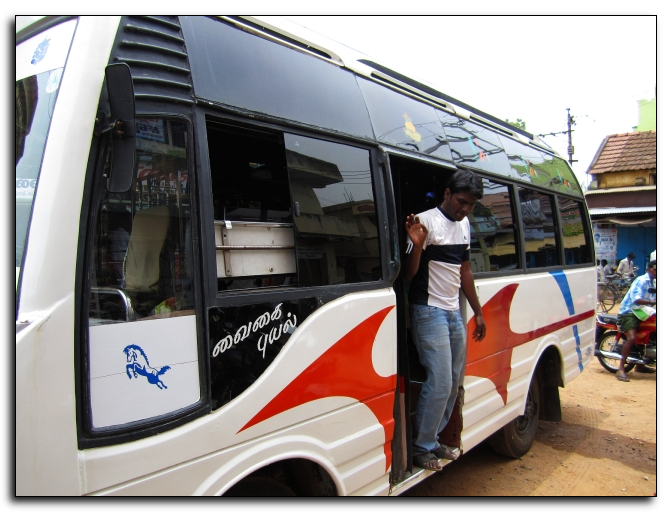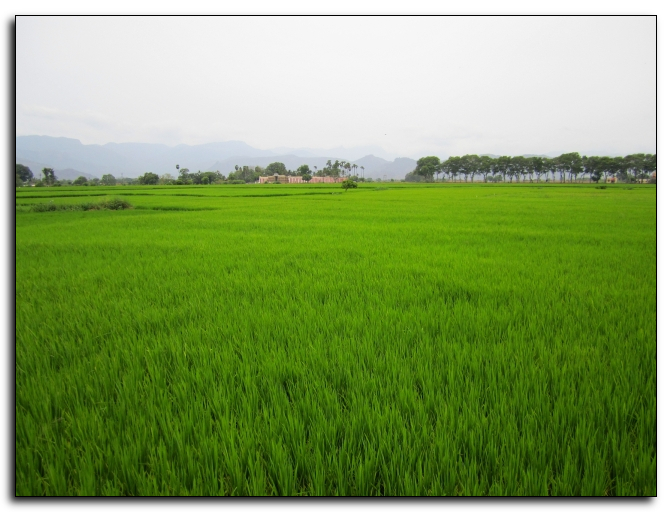 Kallidaikurichi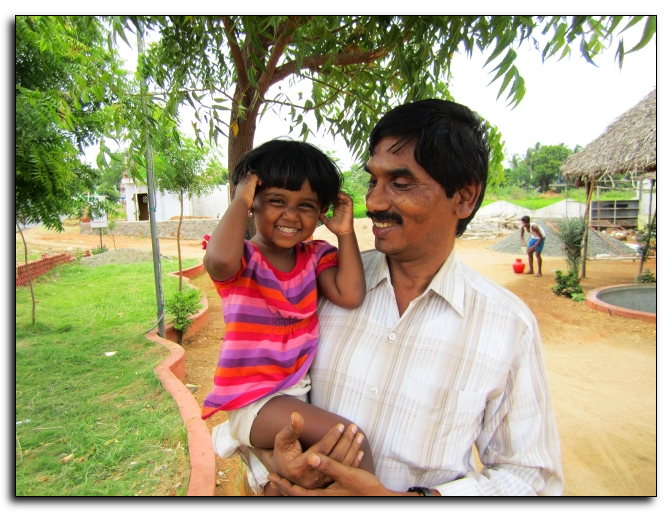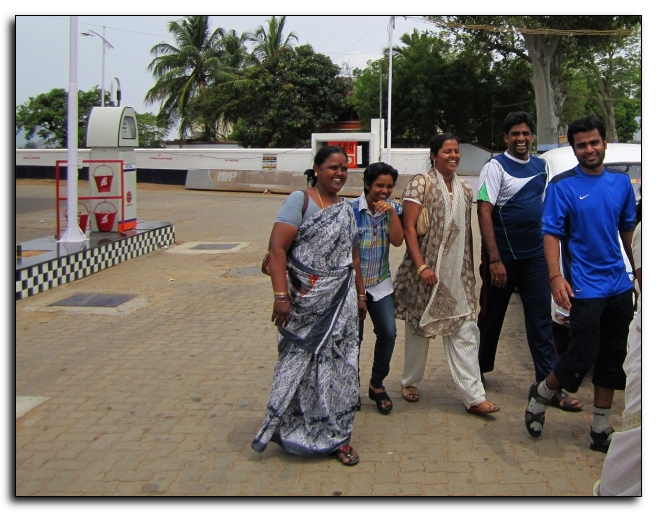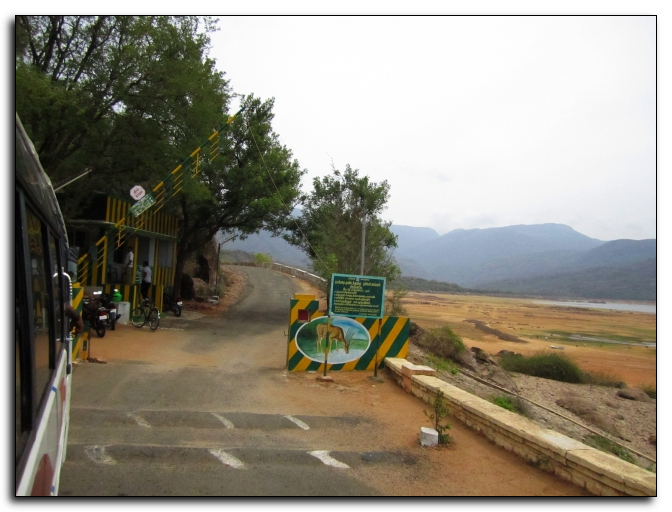 Manimutharu – dam entrace (where it says no photos – Not mine, please catch Kasturi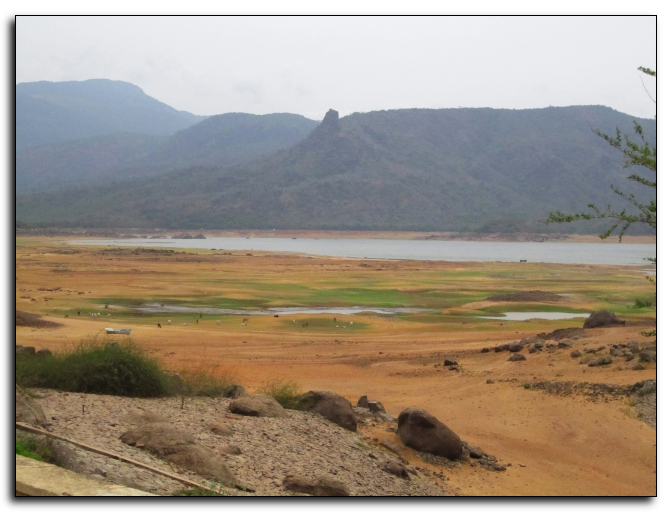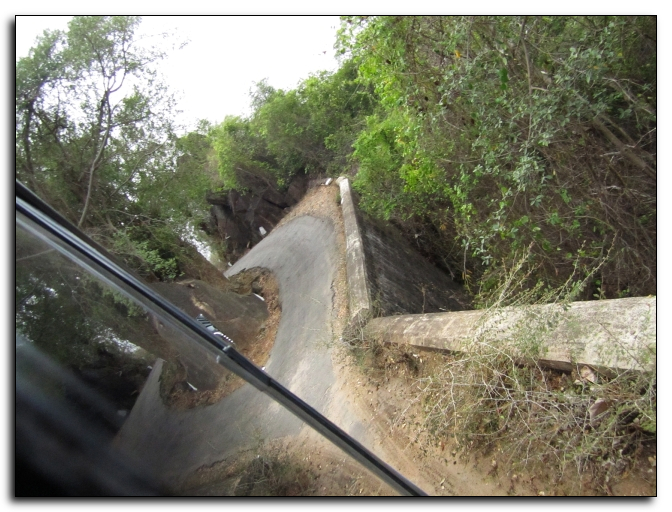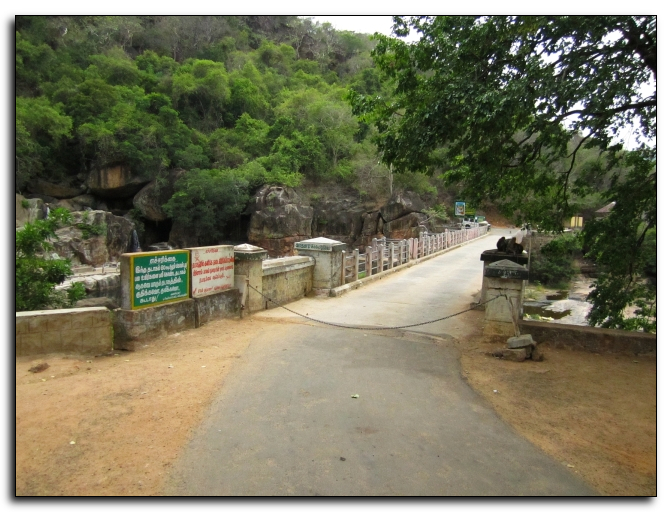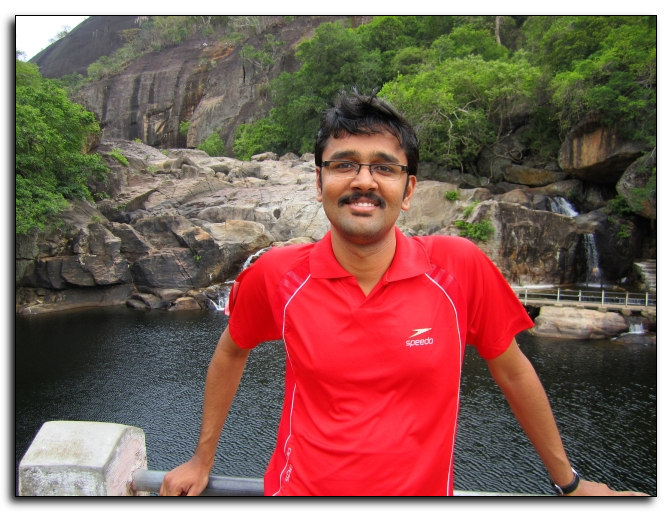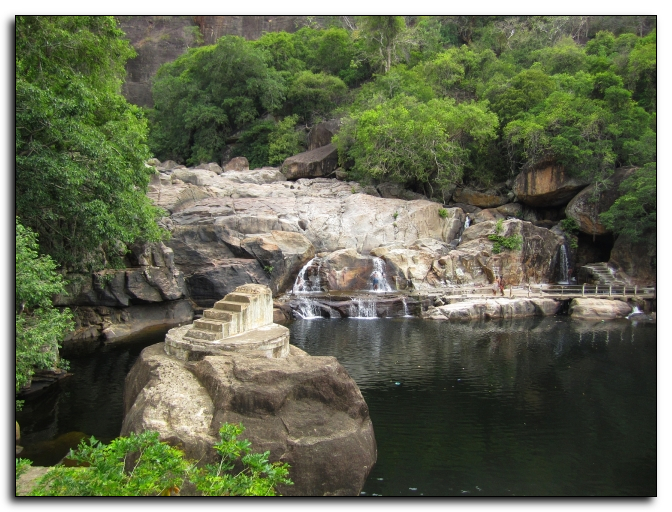 Manimutharu Falls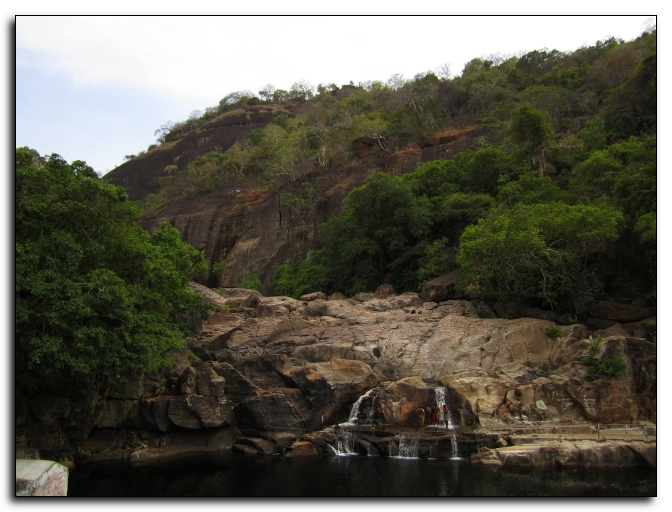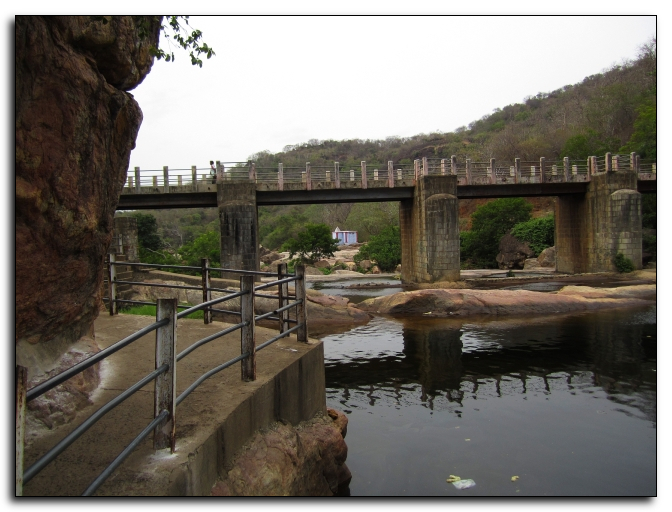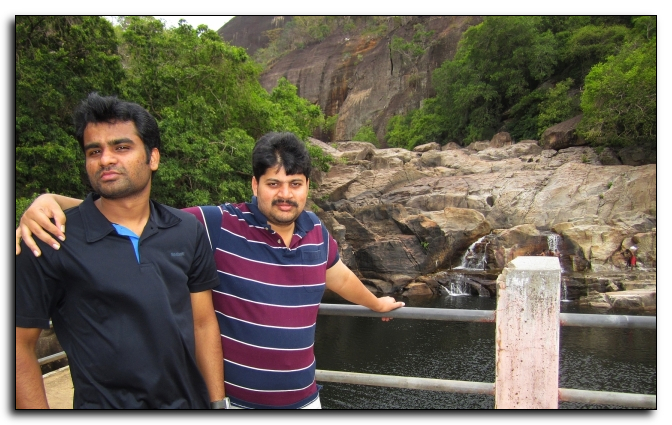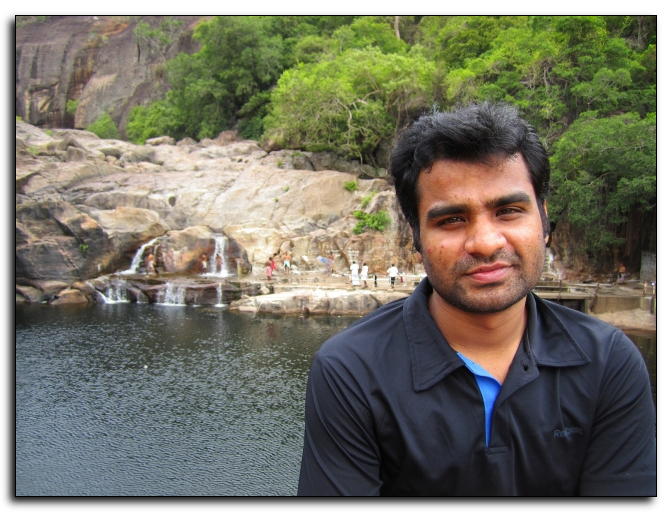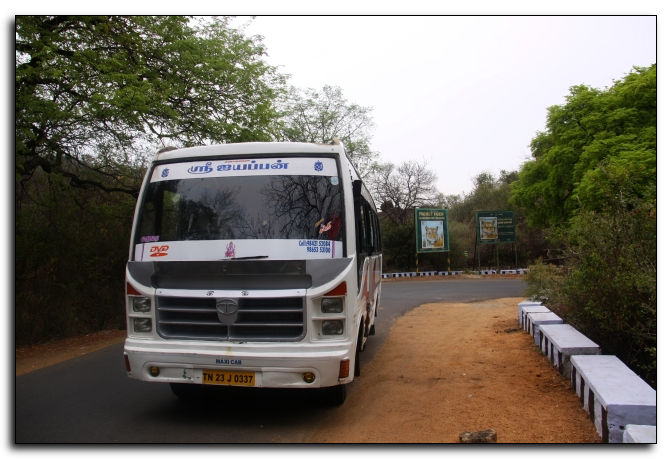 Near Thalaiyani Dam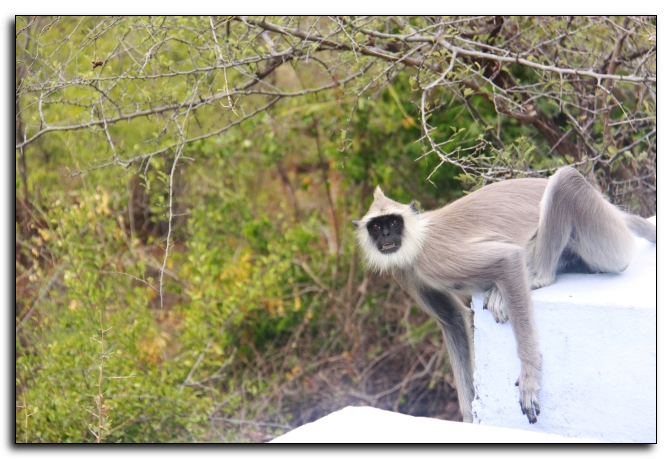 Karumanthi as they call or Lion Tailed monkey (not macaque)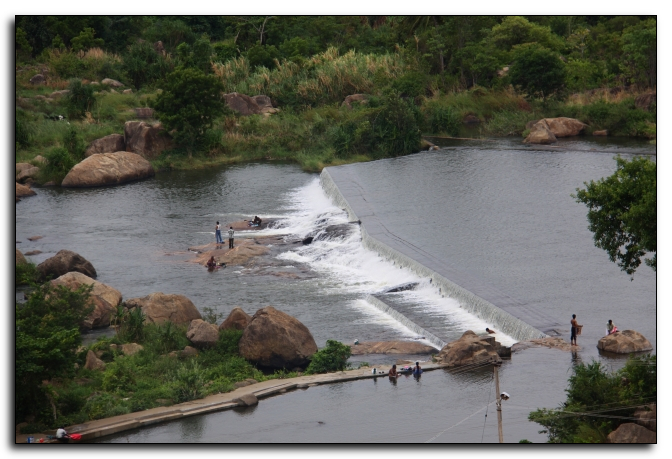 Thalaiyani dam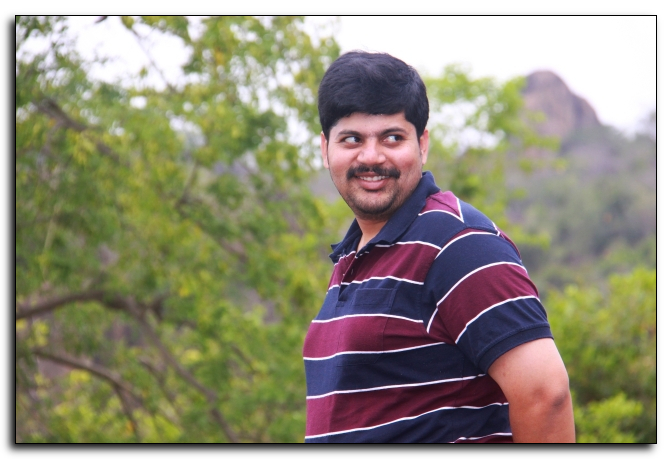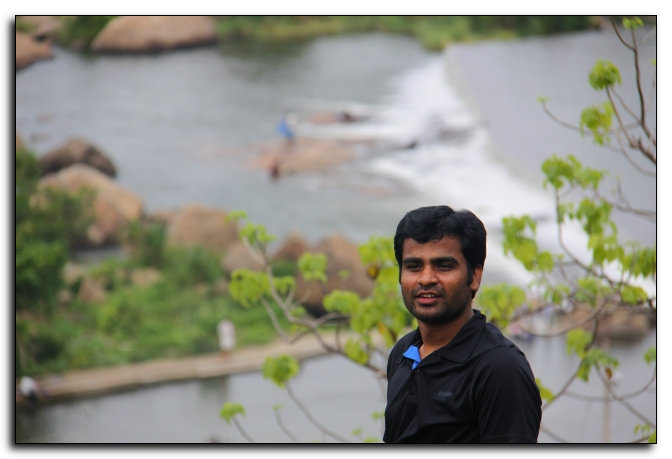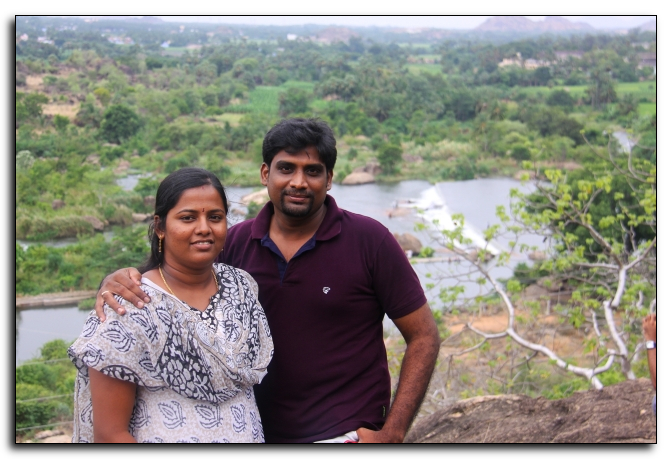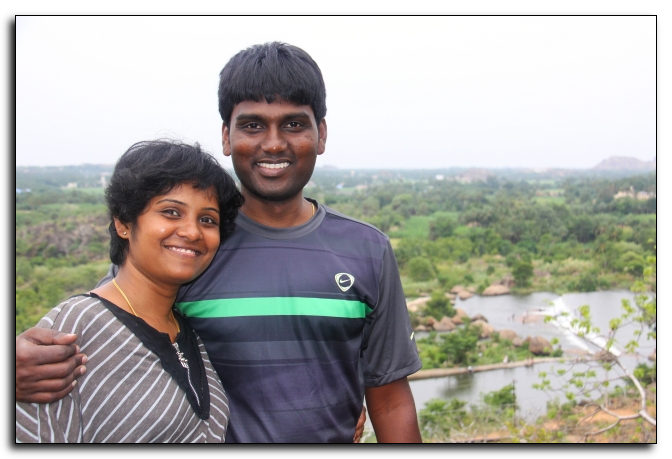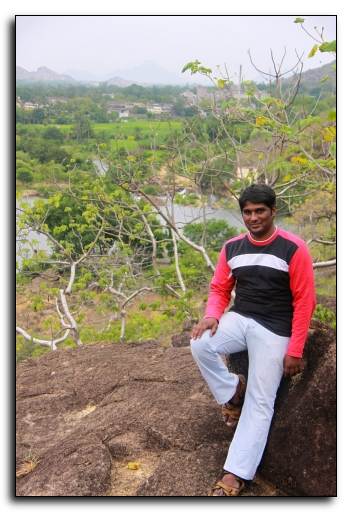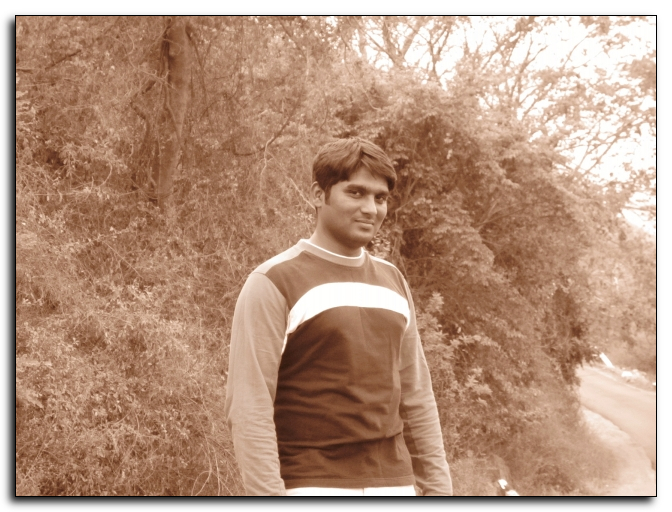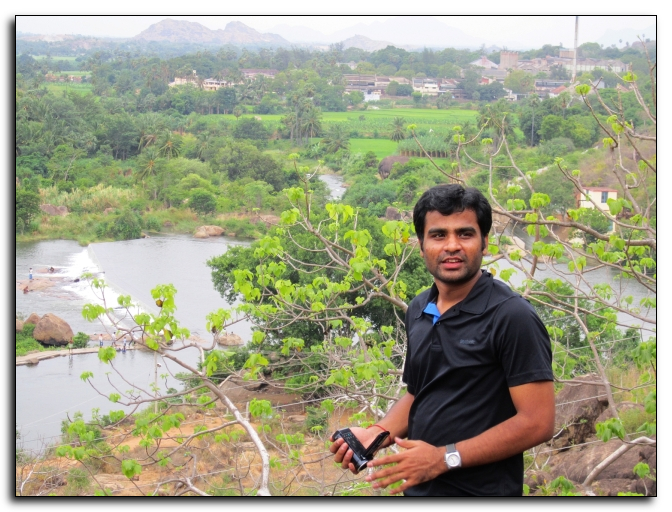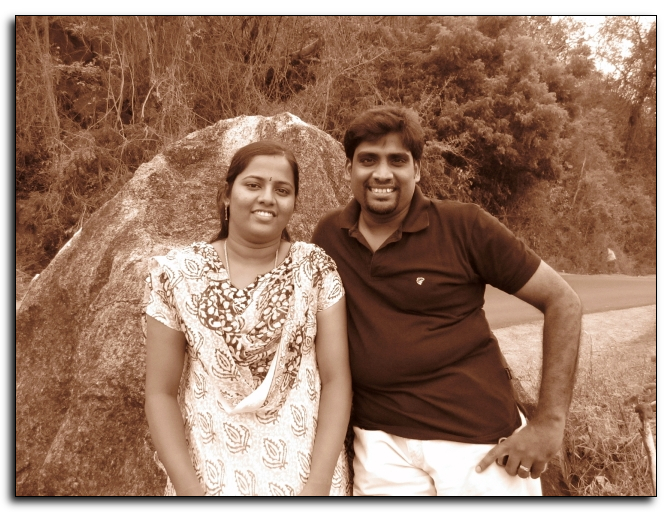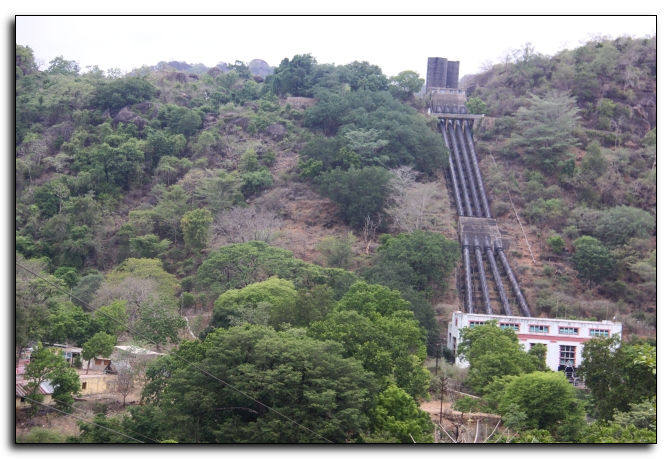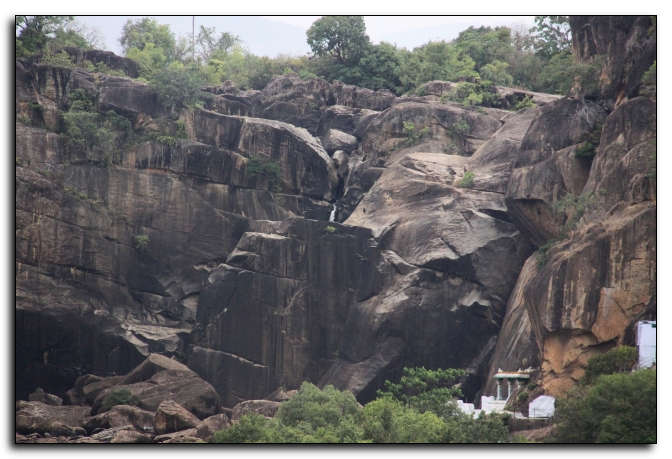 Kalyana Theertham (just above Agastiyar falls)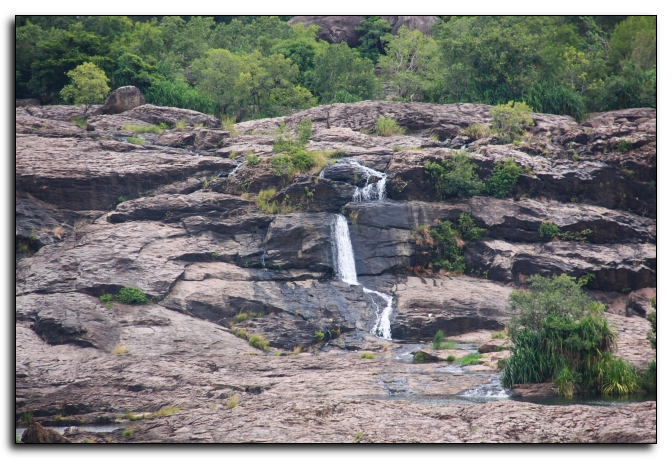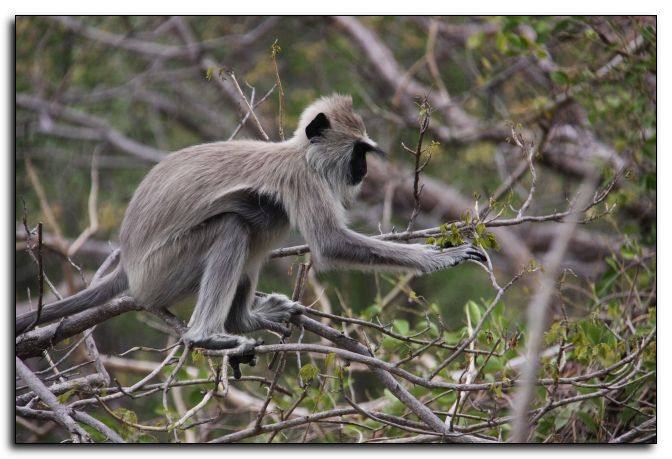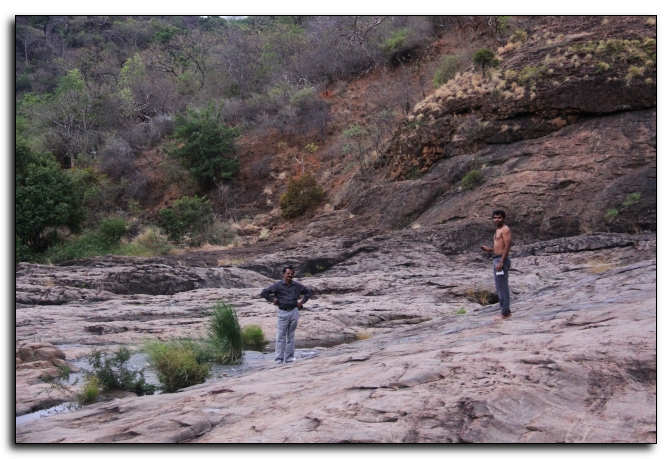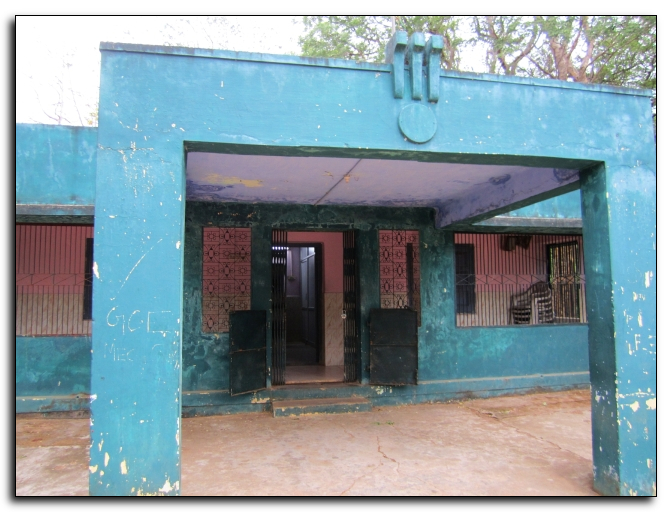 Govt forest bungalow – papanasam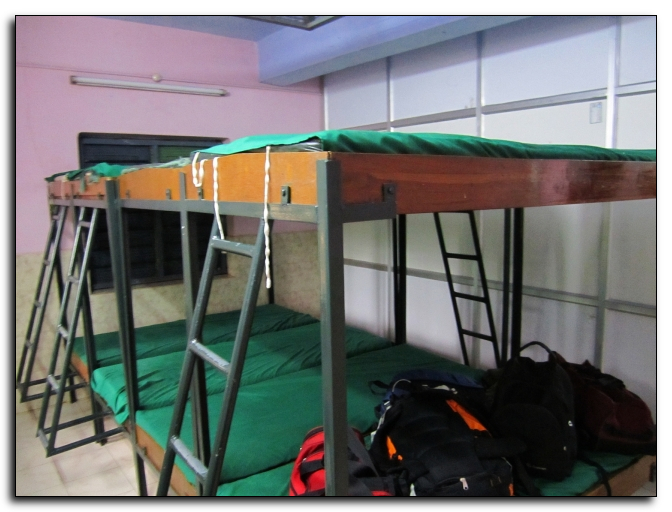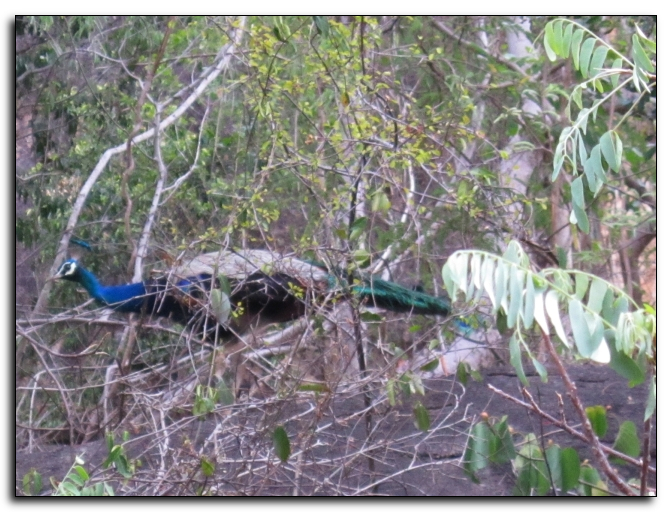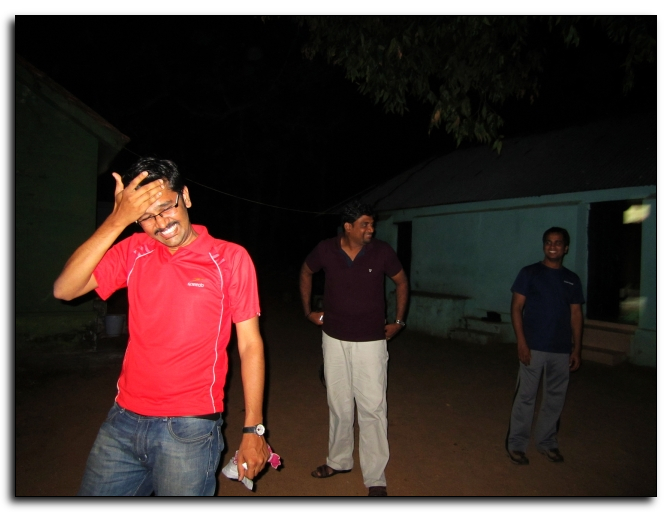 Well – Its a matter about cork – please refer 'expert' Vinoth/Kasturi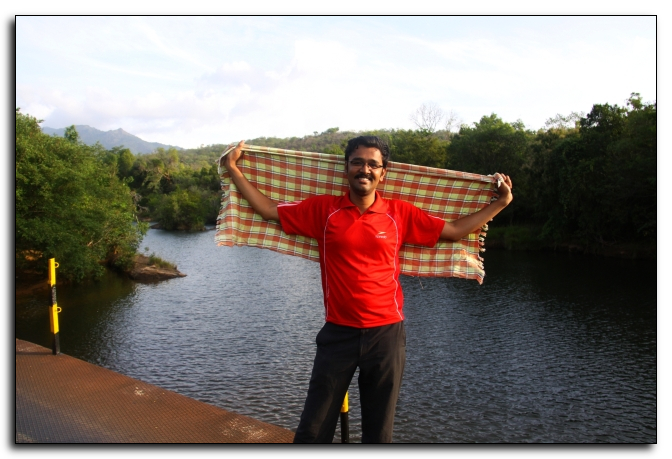 Wish no tollywood director sees this. 😐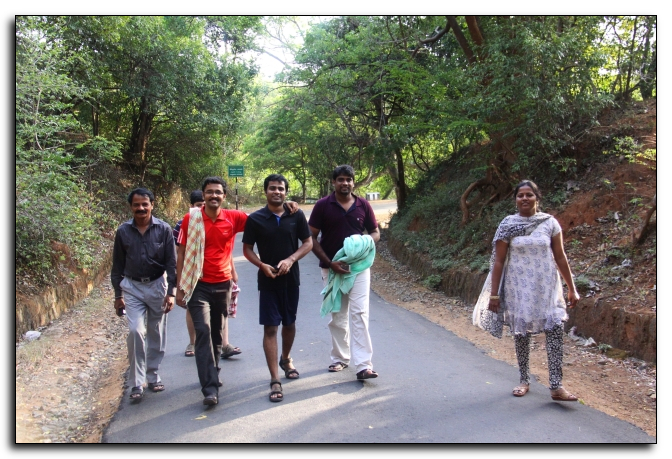 Walk for Tea from Govt Forest Bungalow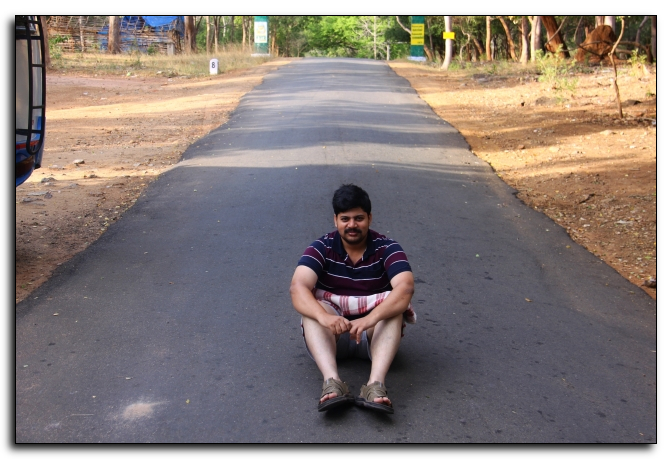 Its the trust that there are no Tigers in the vicinity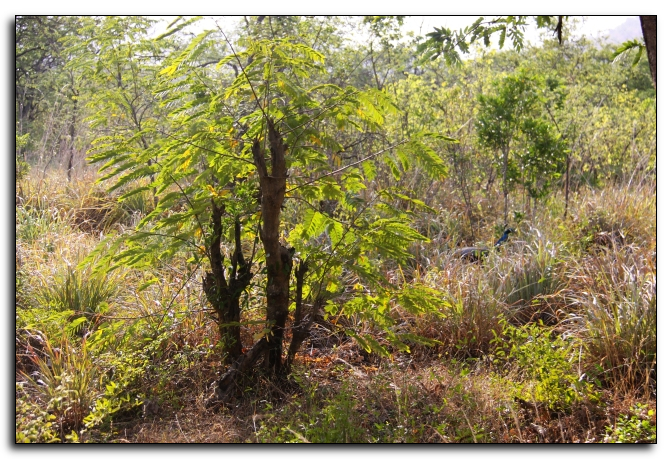 Almost missed the peacock. Find it!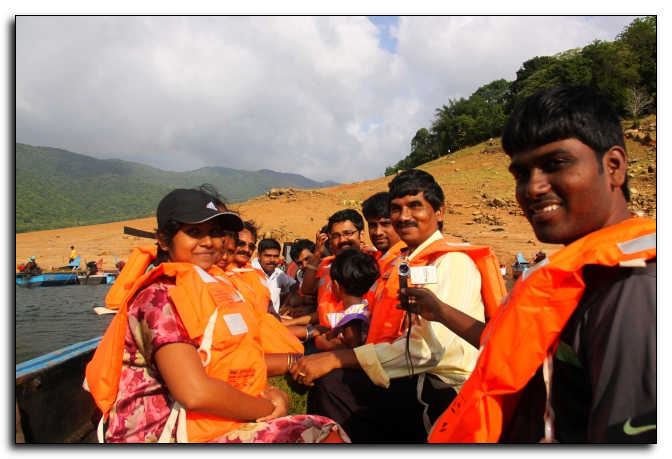 Karaiyar Dam – to visit Baana theertham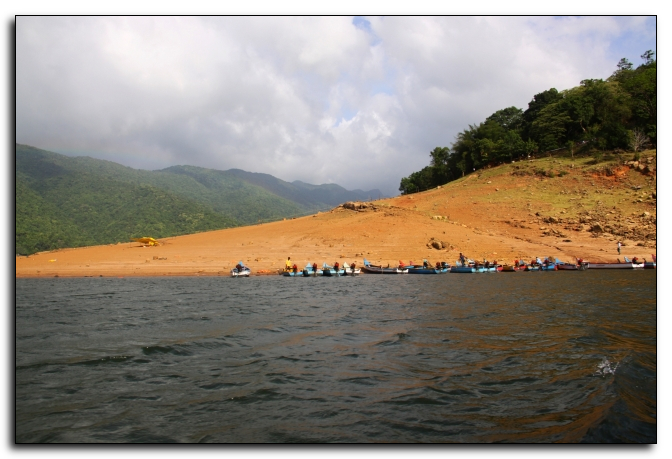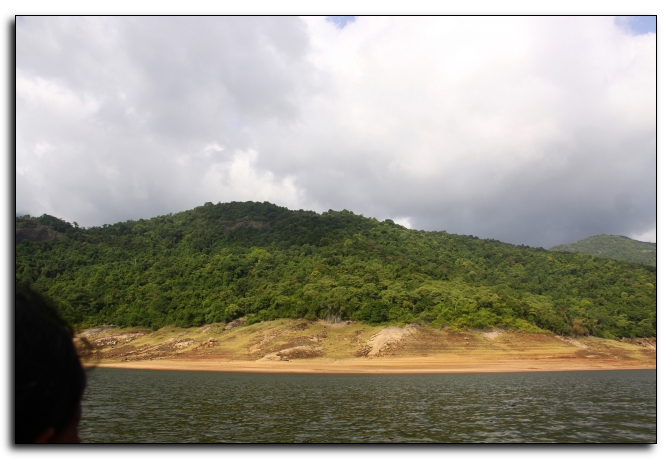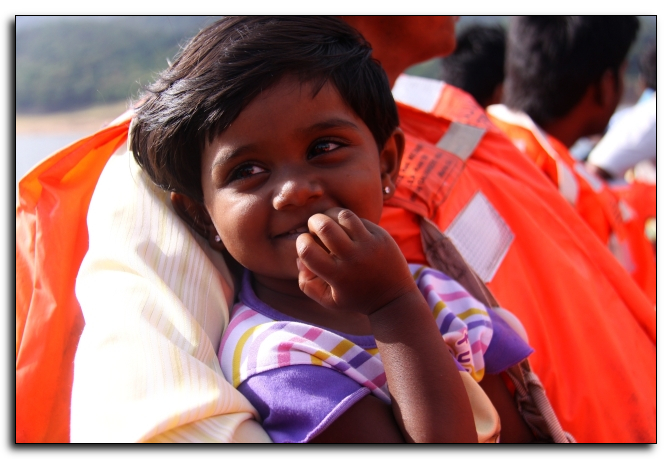 Well – Locate the croc here. Am serious!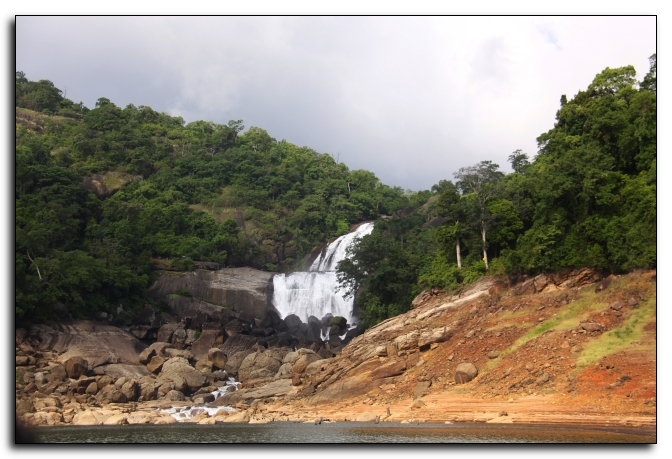 Gorgeous Baana Theertham falls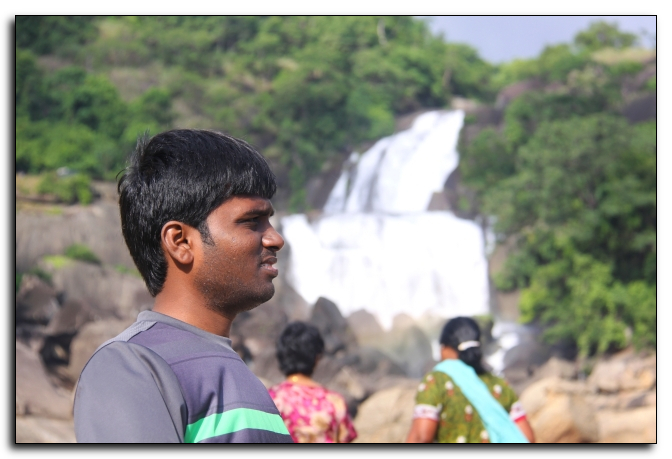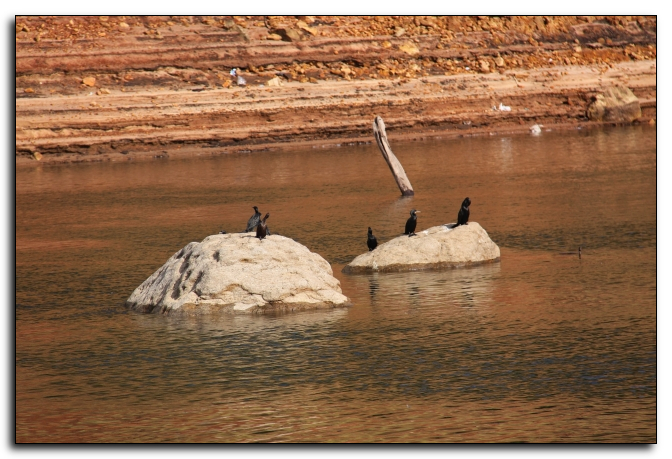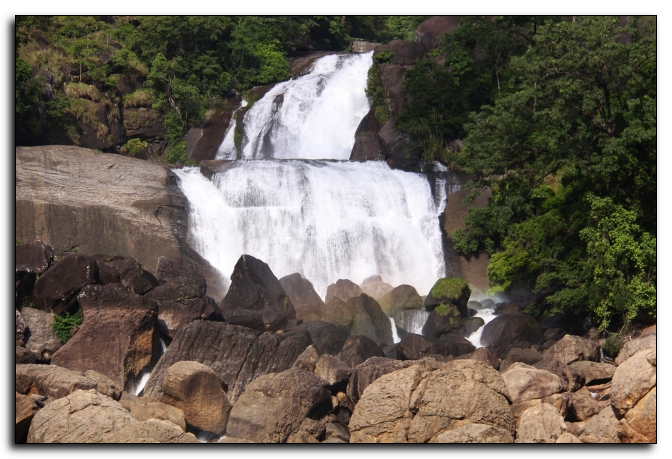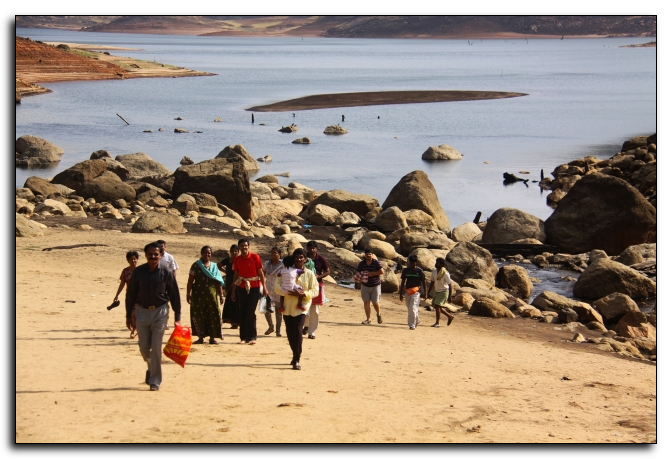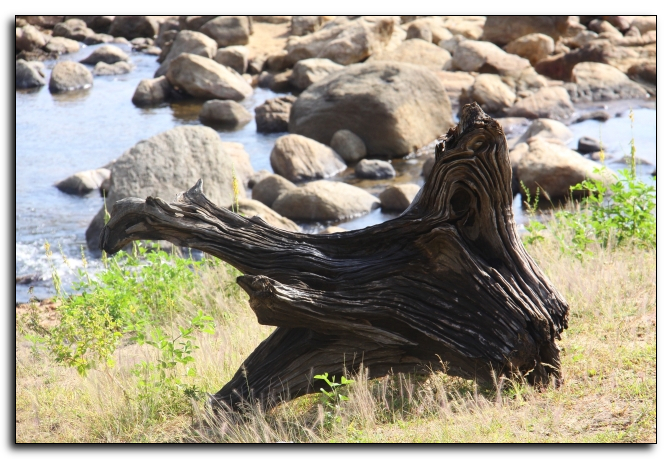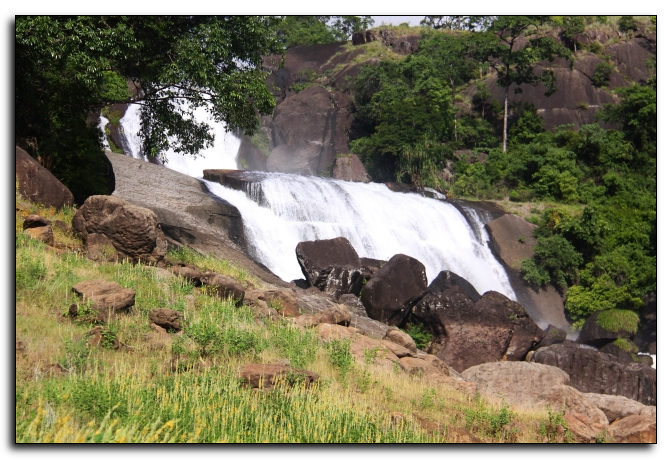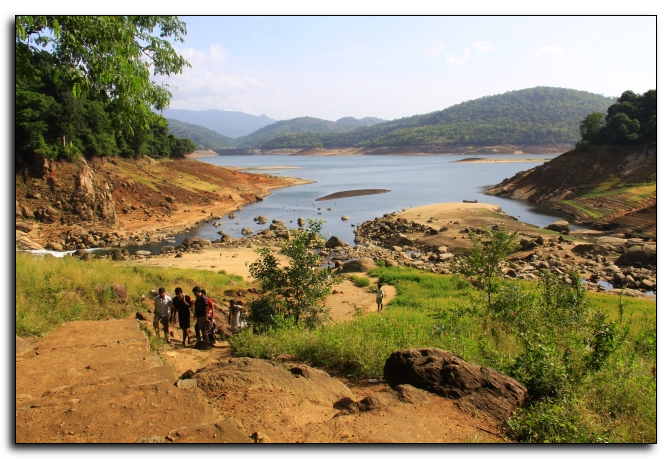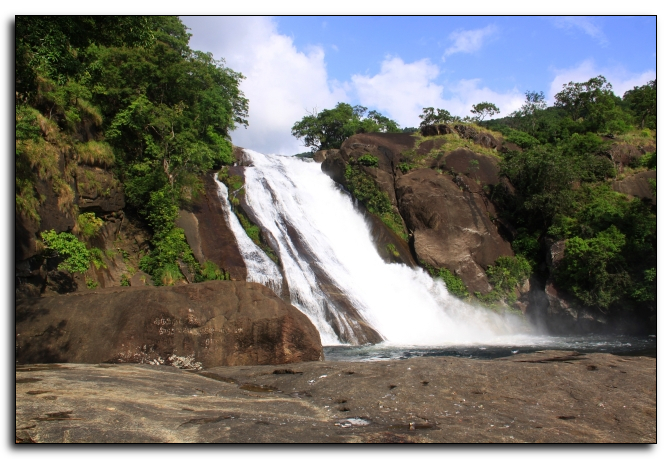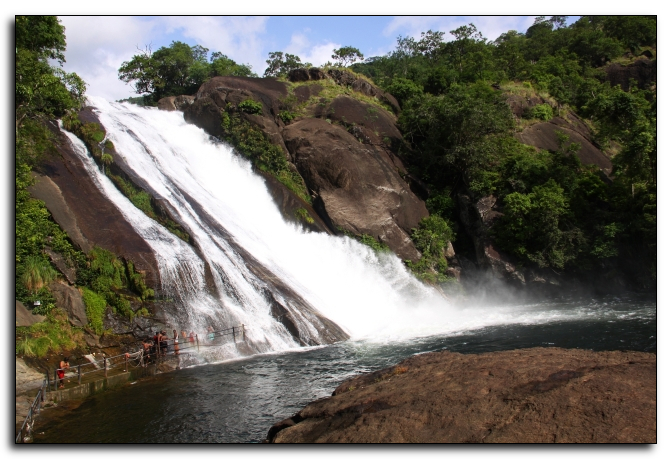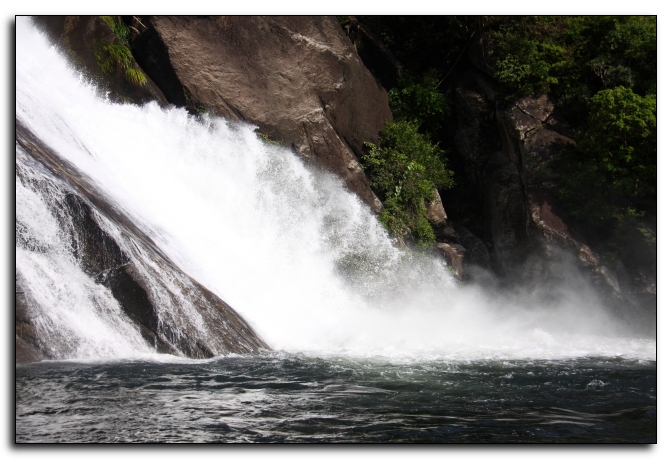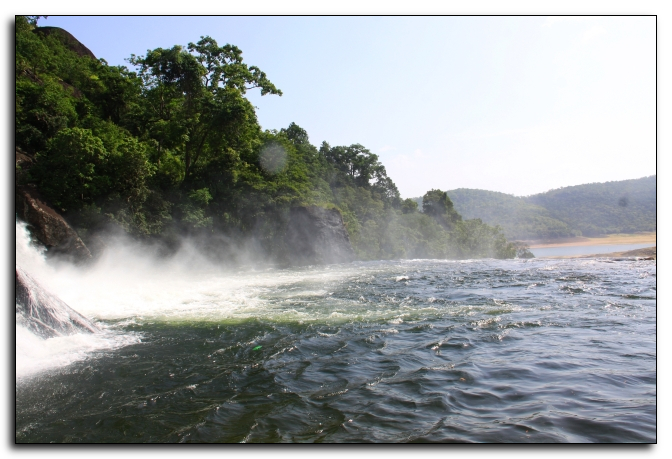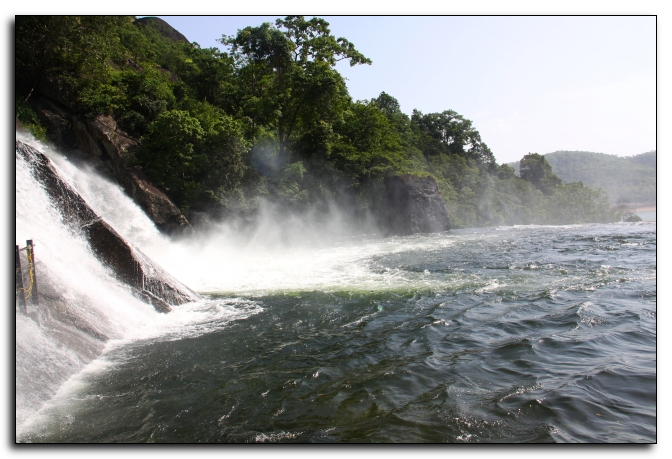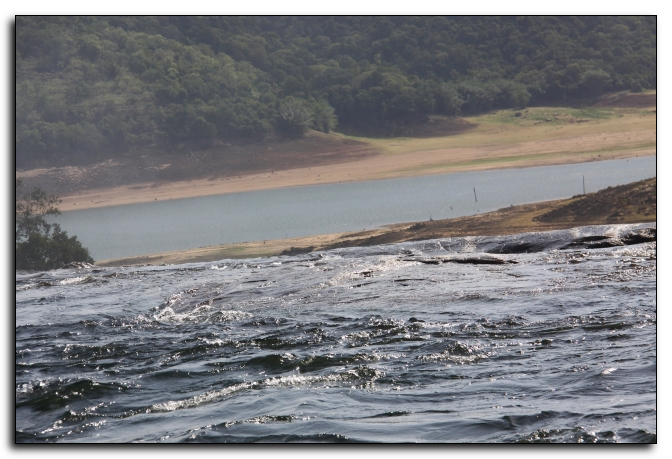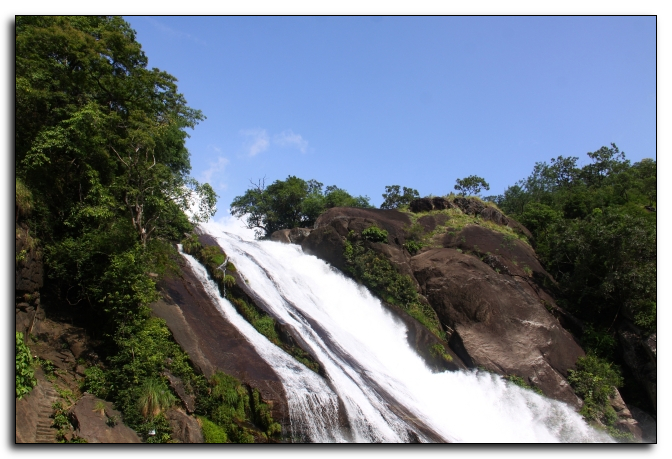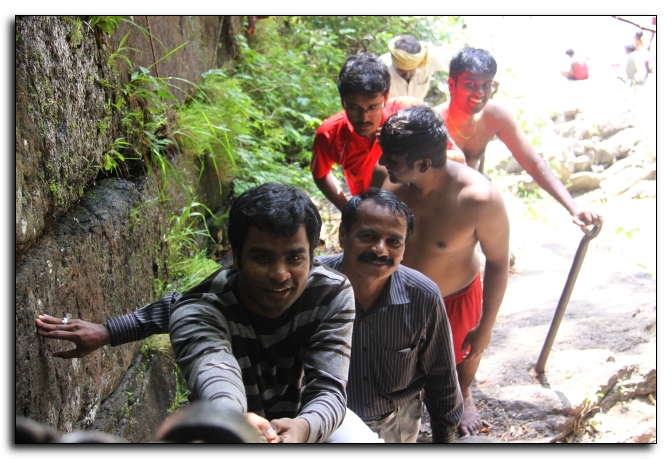 Going above the falls. A must no-no. 😛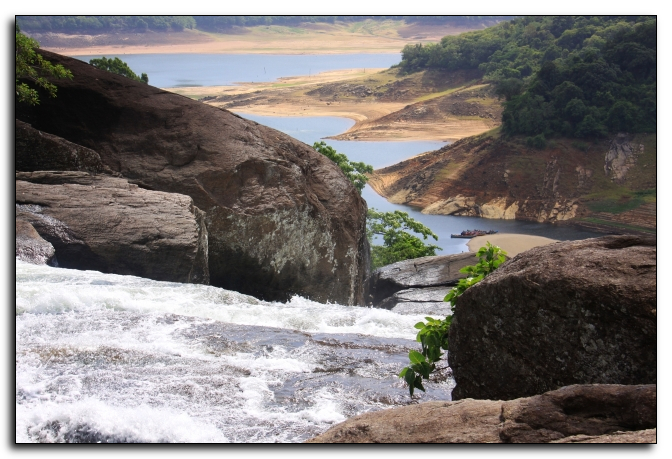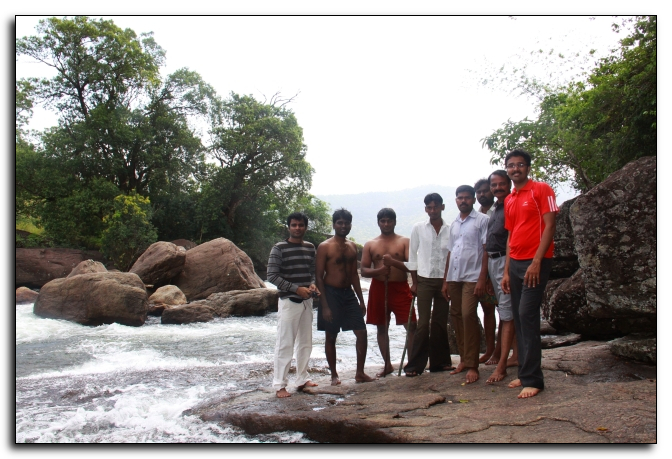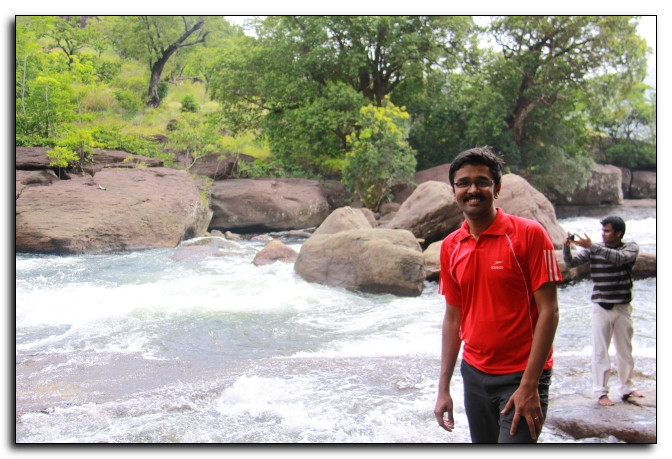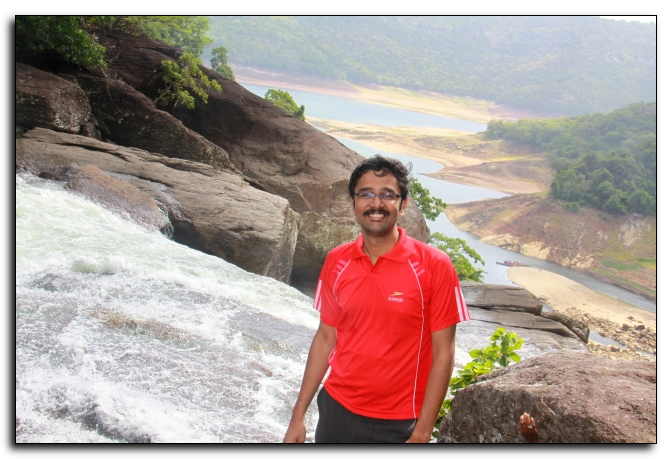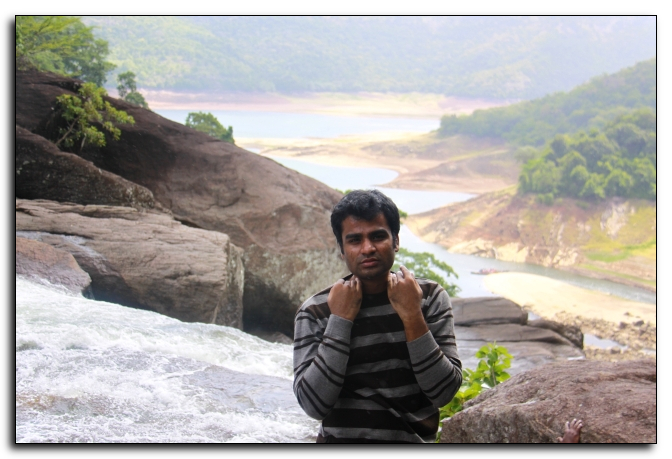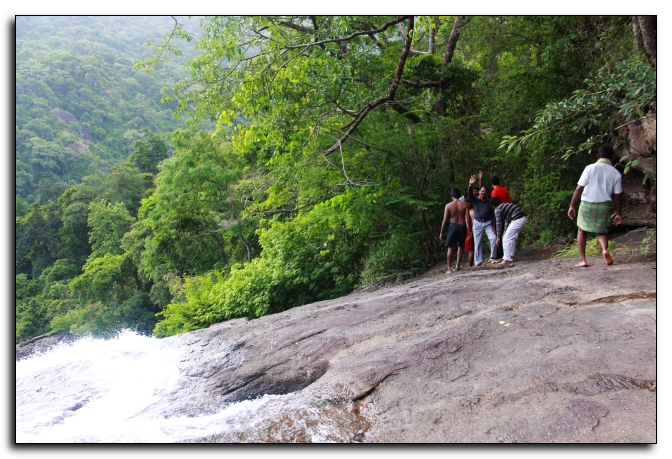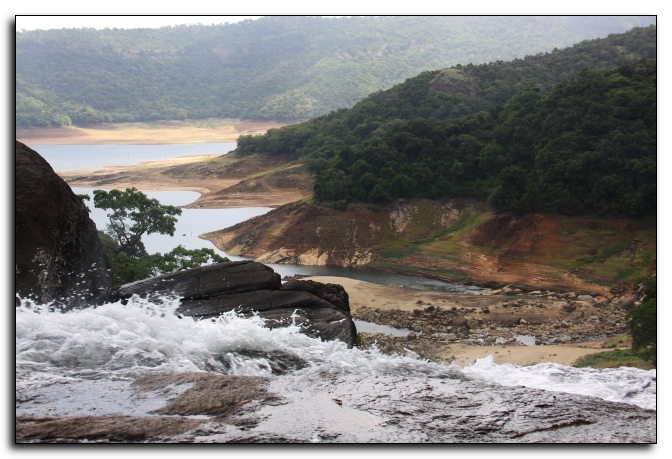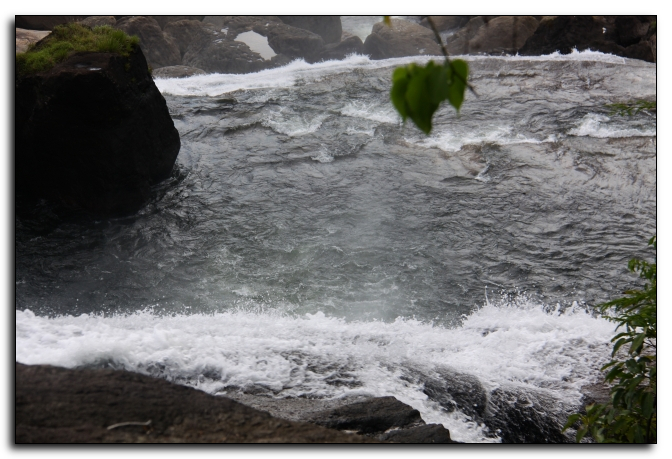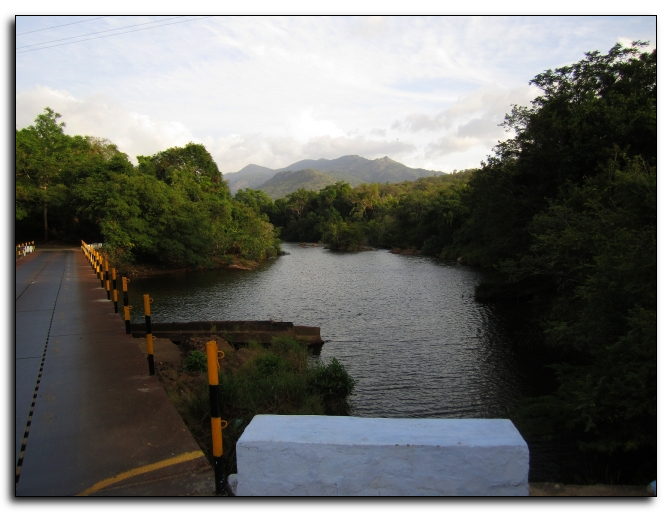 Right next to the guest house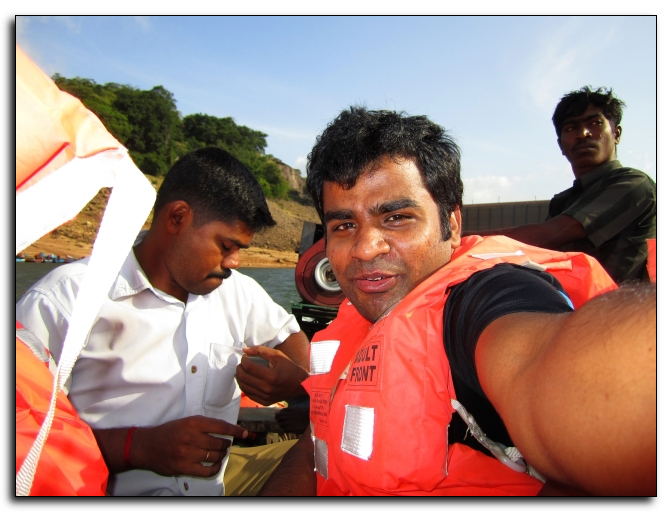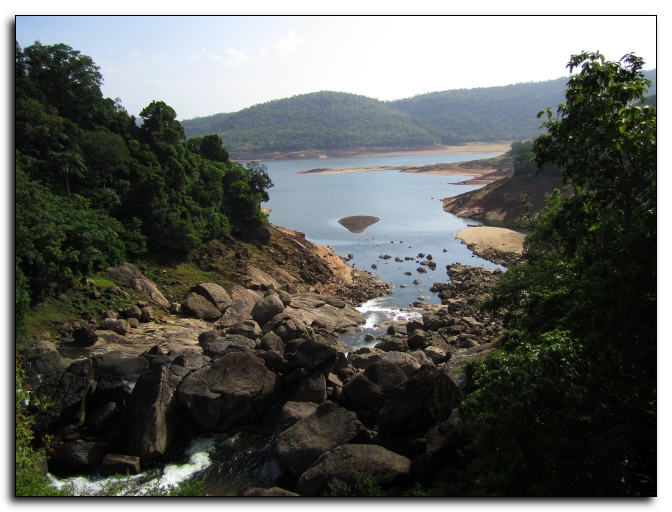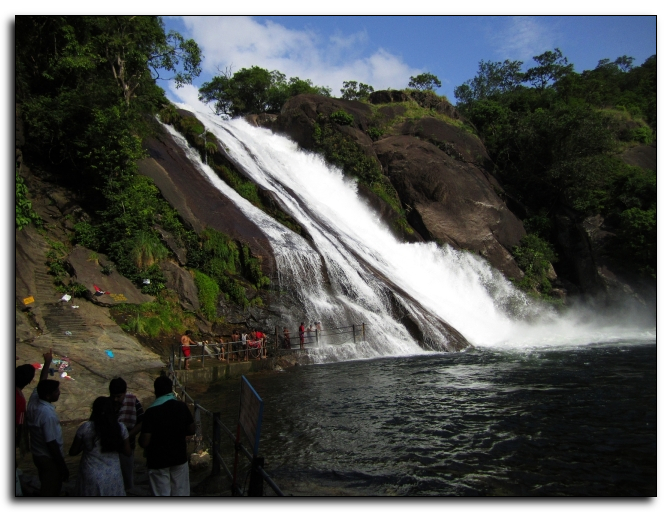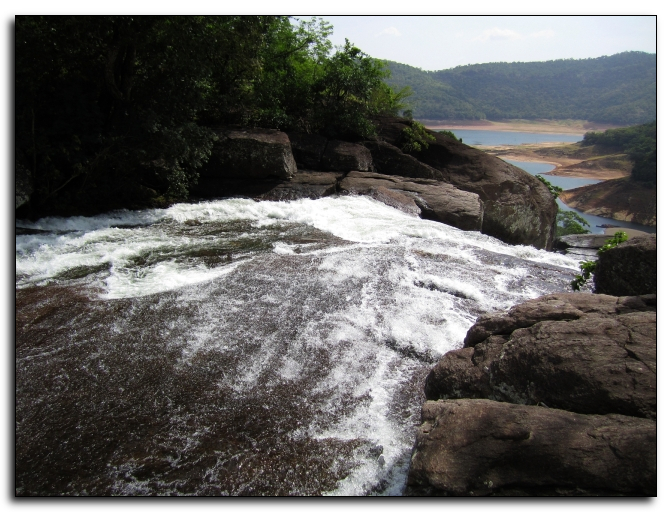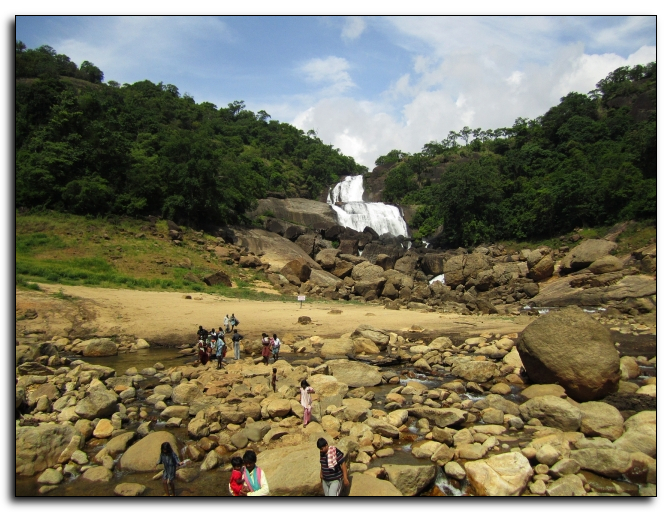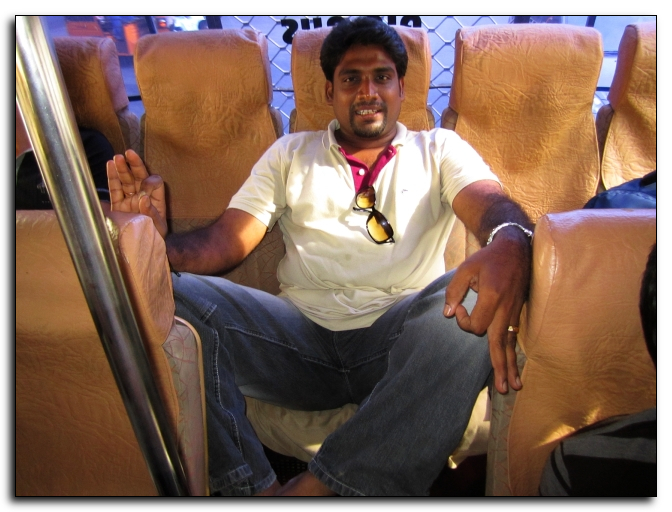 If this need to be explained, Ayyappan – so does the bus name. But Karadi is all I can think. 😛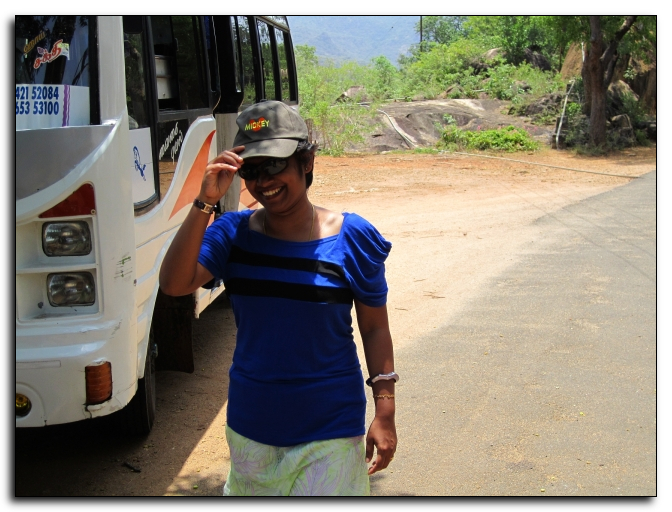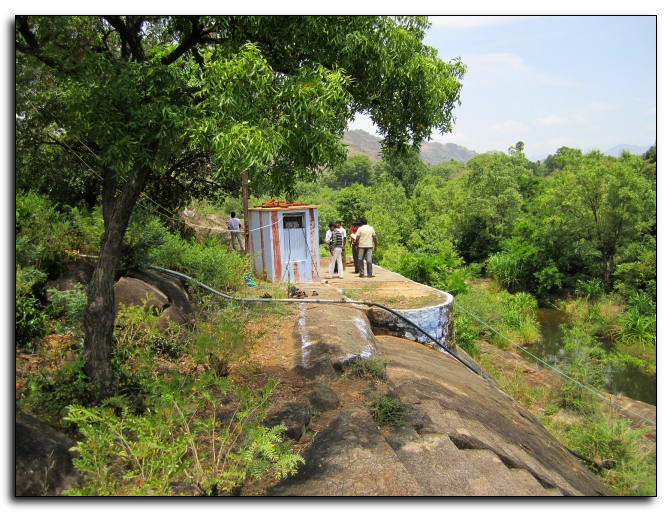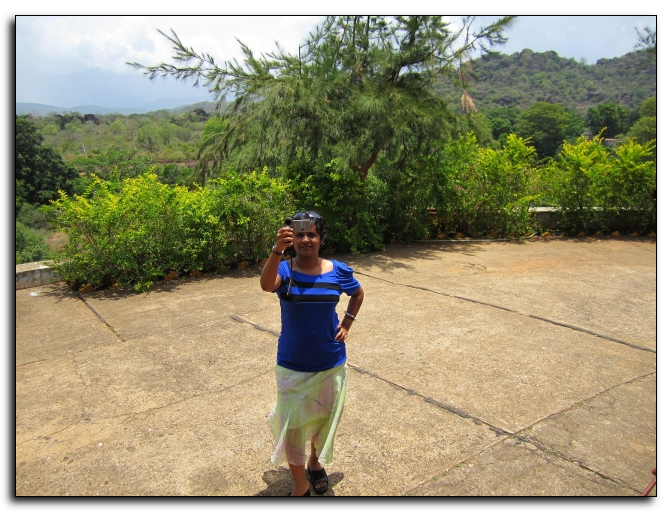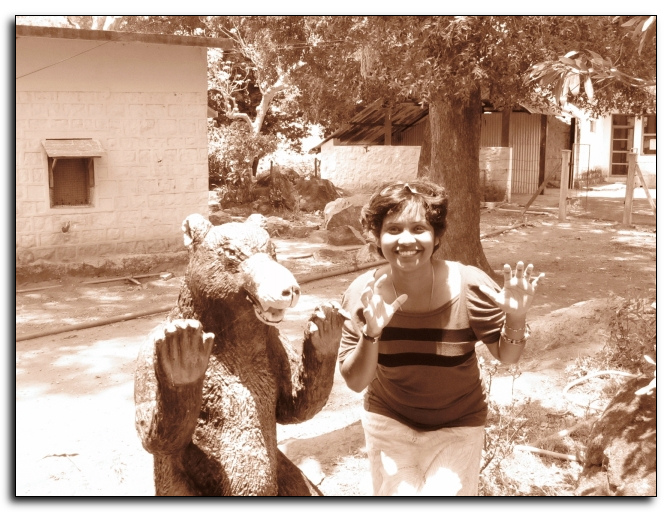 difference-e illa.. 😛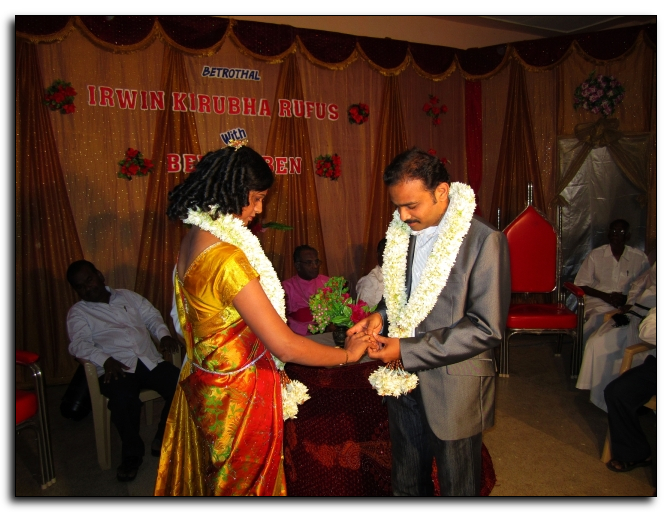 Irwin and Beula – Engagement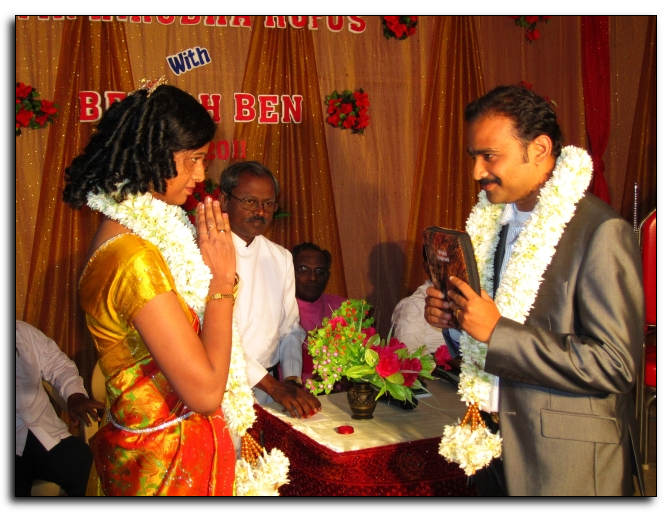 Here are pics – captured when we went to Krish, Kubhi's homes (they are neighbors now) and Shiva's home at Chennai.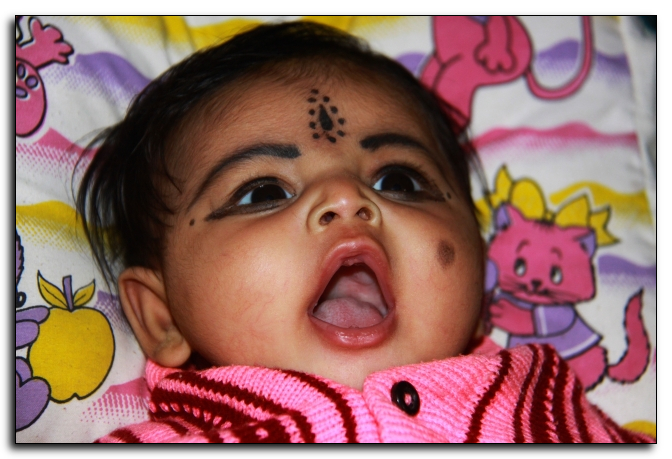 Tanisha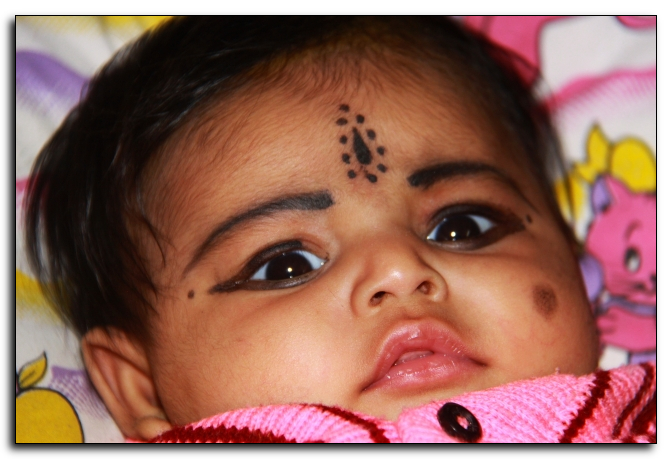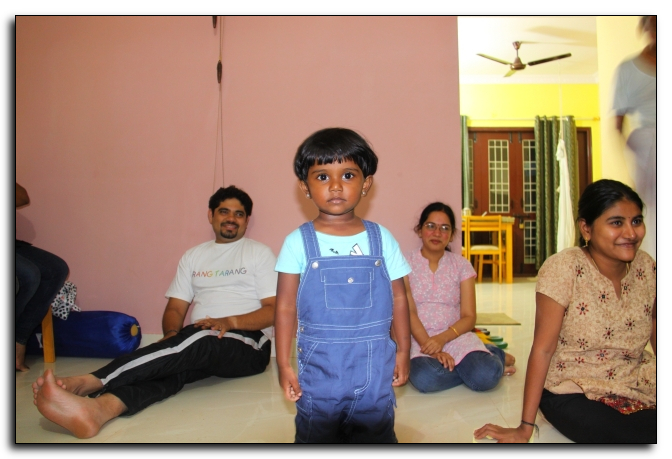 Zinia.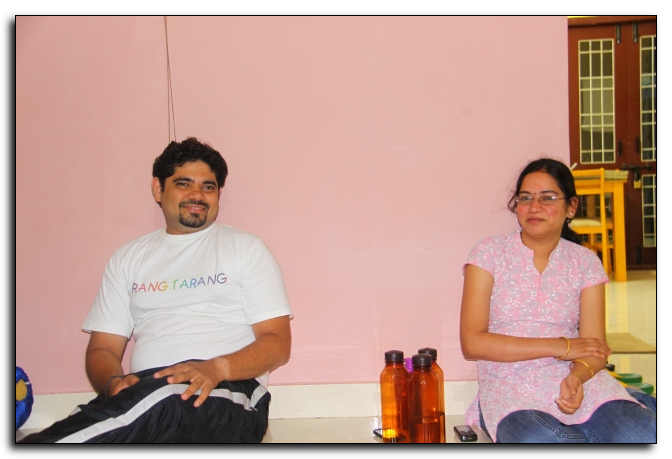 Krish and Valli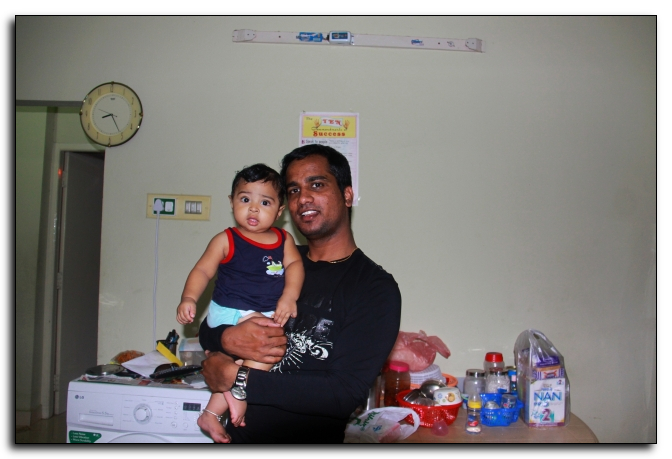 Me and Sujan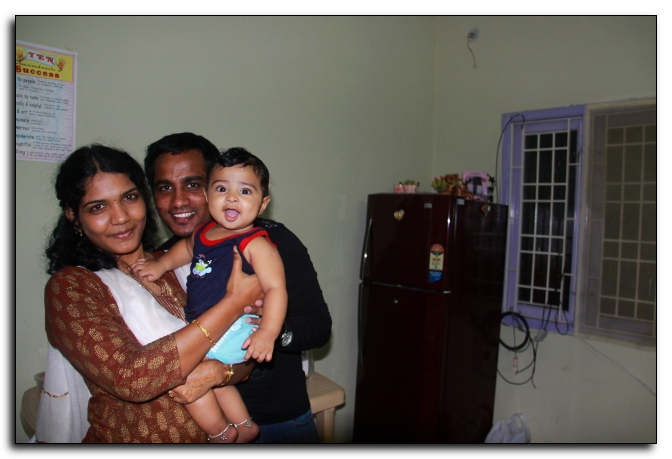 I could have bettered this photo by removing my tanned face. 😛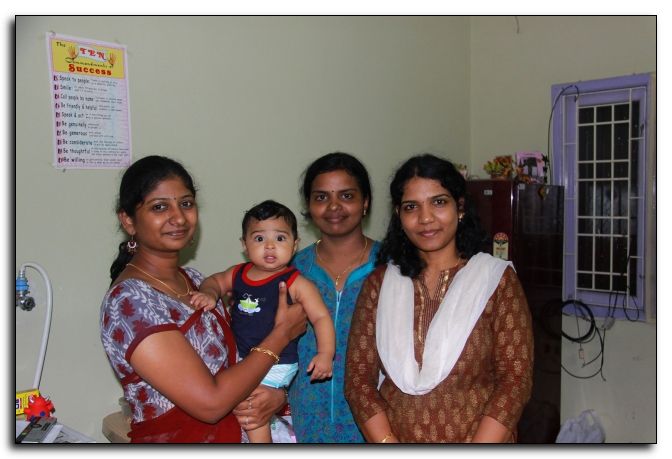 Sujan with ladies.. 😛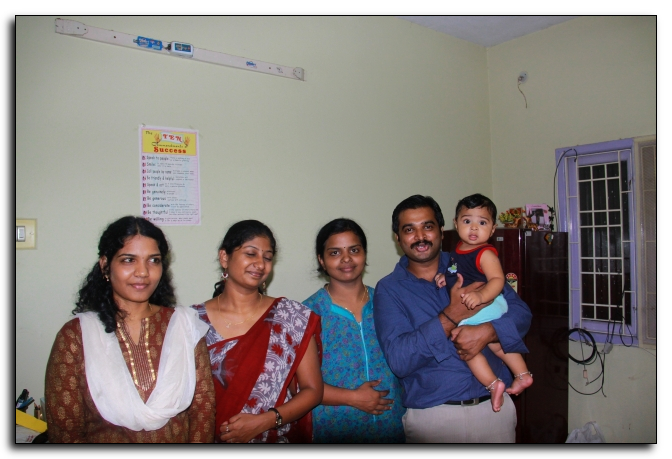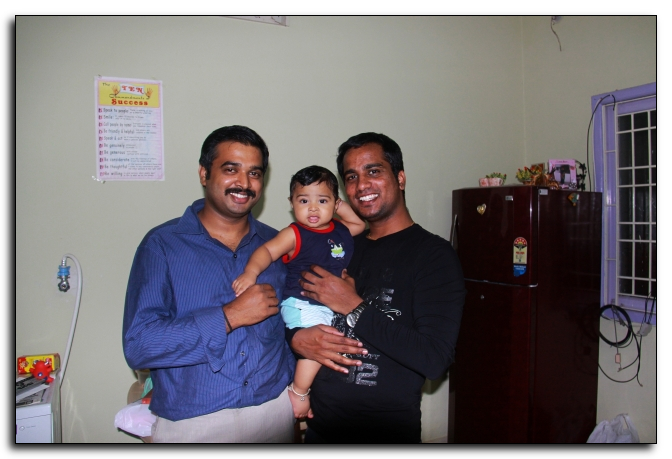 Thats boys club. Sivakumar, Sujan and me. 😀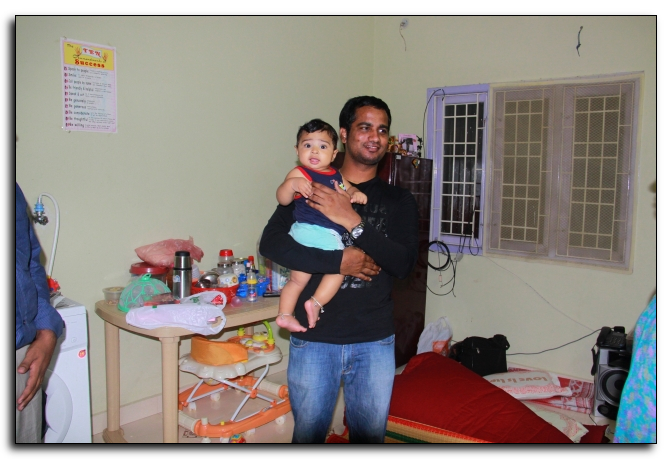 Didnt want to leave him – but had to. 😀