Prologue | Iceland & Norway
|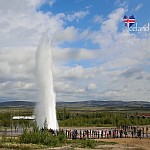 I took nearly 3 months to let my mind to settle down before I started writing this. For a fortnight post my trip, be it a nap or a fullnight sleep, my dreams revolved around driving on cliffs with the spectacular views. It was quite a lot of driving in Iceland and Norway. I drove 1,114 KMs in Iceland and 3503 KMs in Norway. Norway's drive dwarfed my earlier 2050 KMs drive in 11 days in New Zealand.
When Norway was finalized (or forced upon me by myself), Iceland came into picture just with a glance in google maps. Even though they look nearby in the maps, they are atleast 1000 miles apart. My further digs gave return flight tickets from Oslo to Reykjavik less than S$400. However, when I made my mind and booked with human friendly times, I had to shell out more than double of what I had allocated.
Turkish airlines gave us a fair deal to Norway and I booked my other leg (Oslo-Reykjavik-Stavanger) using Widerøe which inturn booked our flights with SAS (Scandinavian). Given a chance again, I will book directly with their airlines by skipping Wideroe. To start with, It insisted my kid to have my surname – which wont be, being a south Indian by origin; we carry our father name as surname. Well, that didnt create any issues in their airports but I had some worries about that. SAS – this airlines almost choked me with their stringent guidelines – well, I respect and wished a bit of leniance as I had my 2 year old baby.
What makes the travel-planning a cumbersome?  unless the entire plan is crystal clear, we cant move even one step ahead. If I start looking for Visa requirements, it starts with confirmed flight tickets which depends on the number of days am gonna spend there, stays and everything is associated with each other too closely. One wrong foot and will collapse everything. I have had head-ache with 11 day plan itself. This one is 18 days with a 2 year old baby. It catered all sort of confusions and I felt like I have been given a job to fix the most complicated knots of a woollen ball.
When the plan was ready, I had to focus on Visa and shortly that got approved (thank God!). Here in Singapore VFS Visa services helps us to apply visa via Denmark Embassy. Next came the shopping list. My allocations asked for another 150%, however, I felt good about the excessive shopping list – mostly. Visiting the cold countries with a toddler required hell a lot of preparation and the shopping list asked for a bigger suitcase-space than combined of her's and mine. I didnt mind and even reduced my stuff to accomodate to ensured the little one gets all the space he needed.
Norway and Iceland weren't the typical favorites of Europe summer tourists as both the countries enjoy the smallest and most unpredictable window of summer. While Iceland had the roads made using rulers, Norway had all of the roads made of curves except one particular section (Lillehammar to OSLO). How can it get worse; no english GPS for Iceland while Norway cant be relied 100%  on GPS as the hills can easily shave off GPS signals. I bought a GPS a month before the trip and downloaded GARMIN maps for Europe (which includes the Iceland) for 80 USD and tried to make possible routes using route planner app without much success. However, GPS as I always reckon – the greatest invention and helped me to stay under the satelites and never lost.
Even though all these helped me to ease a bit, a mammoth monster was sharing huge space in my thoughts cloud. Its right hand side driving with left hand side steering wheel. Its too much for an Indian who uses cars only during his vacations driving left using right hand side wheel. Whenever that thought came in to my mind, I told myself, take a deep breath, you can pull through – and I did!
Funny part is, I have had never driven a SUV even on Indian roads – but booked one for the Iceland. Until my trip, Iceland was depicted as the most unpredictable country when it comes to weather which can be anything between snowing to snow storms with or without ashes and what not to scare the last bit of confidence I had. To give an example, your rental car company would advise you to open the car door carefully from inside as the strong winds can rip the car-door at times. Seems its common. :-O Actually, its not that bad on the main roads though which I realized later. The very same reason made me to get a SUV for the Iceland leg which was the finest decisions ever I took – you would know when you read the Iceland posts here in this site. I got it from Blue car rental and that was another best decision I took in this trip. I managed to rent the SUV at a regular car cost and the one I got was almost new (KIA Sportage). Am still in love with that car even after months.
First things first, must have list,
GPS – If you going to drive, because GPS rental would be sky high. Inbuilt car dashboard GPS wasnt really helping in my case. Garmin + Maps for the europe (from garmin.com)/
Good Moisturrizer – We got it from Kiehl's at Vivocity that comes with loads of positive reviews and a cost thats associated with that fame. I would say its worth. It kept my stupid sensitive skin from the regular damages.
Lip Balm – Free sample from Kiehl's was good enough for the whole trip. Comes in 2 flavours, one is neutral and the other one is over-sweet mango flavor.
Good thermal wear – Traveller's world at vivocity and most of the outdoor shops sell it. Look for the correct segment of what temperature it can withstand.
Good down Jacket – Again check for the temperature it can withstand. Basic rule, it should fit really good. You have no idea what that chilly wind can do if you give it a small gap. Honestly goose feather or micro feather wouldnt matter and heard that the first one would get wet easily in case of a rain.
Wind cheater – If its winter (to be used on top of down jacket).
Fleece Jacket – Optional but really good carry. Weighs almost nothing.
Beanie – Preferably thick made of wool
Leather gloves – or even wool should do if its just summer. I didnt find it was 'must' for me during my trip.
Some pocket warmers – You could get some chinese/Japanese product from these travel shops. Bought few times, but never used. It need to shaken vigorously to 'activate' and keep it in pocket for few hours of "warm".
Laptop – with the hotel wifi's you can fine tune following day's plan
First aid box – It was mini pharmacy in my case, but was lucky didnt have to open. Well – the air, water you get there are the best you can get in the world and any sort of viruses dont dare dream to live in that weather.
On 20th June, we started our long journey to Norway via Istanbul (2 hours of transit). It was a nice little break to face next flight to Oslo. We got out promptly in Oslo by scheduled 11:30 in the morning. Our plane journey didnt just end there. We were due to take another flight to Reykjavik that evening (10:50pm to be exact). Well – this slot really asked for more digging in the internet than the car rental search. Our first option was to go to Oslo Central (Oslo S) and find a day hotel. However, with the available time, I thought it would be too much to risk. Express trains werent cheaper too. Oslo airport has 2 hotels and run by the big chains. Park Royal and Raddisson Blu – both have day hotel options, however, be prepared to shell out good money. Park Royal was slightly cheaper. I wanted to have flexibility so didnt make an earlier reservation. Park Royal hotel reception was isloated when we went. Our first observation of Oslo was moderately cold and eeriely silent enough to hear the shrieks of the baby stroller wheels. Rooms were tiny but just perfect to take a break. Again, eerily quiet for Asian ears.. 😀
Gardermoen Airport is hardly 5 minutes covered walk from the hotel which offered a few options to eat. Pizza shops are mostly favorite for the travellers and tasted just right. Right when we started to get to Airport later in the evening (loved that never-dark late evenings, for a while there), it started raining heavily.
Be prepared, Oslo airport isnt easy with passengers. They have one of the stringent security checks I have ever faced. Baby Stroller, Cabin luggage, laptop & camera bags were dismantled to the core – not even baby food was left intact without testing using their food loving machines/computers. It made me to collate and collect my items nearly for 4 minutes and eventually one my core item seemed to be missing – My Wallet. For a control freak, nothing else need to happen. It triggered panic harmones and I was finding myself running to the hotel where we stayed. Reception responded I didnt leave anything back. I ran back to airport in that rainy cold weather and faced security checks again. As last attempt, digged my dslr bag, only a zip that I didnt check earlier, had it. That moment am sure I was as much as happy as a one who won lottery. Its Norway security or my one-off situation, am not sure even now. But I will be careful. 🙂
It was close to 2.5 hours of plane confinement from Oslo (OSL) to Keflavik (KEF) Iceland international airport. But I had no clue of the plane time as I got some deep sleep. When we landed, airport was deserted and the plane crowd was disappering quickly. Airport is cute-small and hardly a 7-eleven kind of joint was up and selling from sandwiches to SIM cards at that time and they have shown no urgency to bill things quicker. 😀
It was exactly midnight and just like us many people have stayed in the Bed and Breakfast Hotel near the airport which offered free shuttle. As the hotel sounded, its good enough for a night cap and a decent breakfast. Alternative is, to take flybus and to go to Reykjavik area; to get dropped at your hotel, for a fee lot higher. Iceland is expensive and good hotels are very expensive; that made me to have my stay for 3 nights in one of the airbnb accomodations. We stayed in selfoss area and the host made us feel its home!. Blue car rental was situated near airport, few minutes of walk when the cold is not willing to kill you.  Picked my car from them next morning and the journey began!
Iceland itinerary
Day 1 SG to Oslo
Day 2 Oslo to Reykjavik
day 3 Golden circle tour
day 4 Iceland South
day 5 Landmannalaugar (had to cancel as Laugar roads were not open due to winter snow)
day 6 Return to norway (reykjavik to stavanger )
Norway itinerary

Day 7 Stavanger to Roldal (stay in lofthus)
Day 8 Roldal to Ulvik (stay in eidfjord)
Day 9 Ulvik to Bergen
Day 10 Bergen to Aurland
Day 11 Aurland to Hjelle
Day 12 Hjelle to Geiranger to Hellesylt to Stranda to Valldal
Day 13 Valldal – Trollstigen – Alesund
Day 14 Alesund to Molde – Andalsnes
Day 15 Andalsness to Folldal
Day 16 Folldal to Muen to Lillehammer
Day 17 Lillehammer to Oslo
Day 18 Oslo to Sg