Why Life of Pi is Must – Even for kids!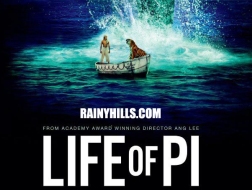 "Life of Piscine Molitor Patel" to be exact. I get super excited whenever a movie is made out of a book I read. And everytime, my expectations about the movie shoot sky high and come home with a slight headache as the movies generally FAIL to cover most of the important things.
Life of Pi is an exception. The booker prize winning novel of Yann Martel came to silver screen and I tried hard to keep my expectation low. This is one of those books got places in my top lists for books. I went on even to buy one for my friend.
Life of Pi – The Book!
"Books" still exist for one good reason. They give wings to your imagination. So any book you read, comes alive right infront of your eyes with the way you want it, imagine it. This varies person to person. But when majority of the people are impressed, these kinda titles hit really big and win Booker prize. Someone told me once, these books help really to get quick sleep right after second page.
When I read this book, not only I finished in the quickest possible breaks but started thinking about life's existence and some evolution related questions. Yann Martel won!. To put it very mildy, this book went on and gave a picture of intense, deep, emotional and illusion (or close to hallucination). If its possible, read the book first, then the movie. (Thats a spoiler). 😛
Life of Pi – The Movie
First, salute for the effort. Next, for not giving me headache.
Let me try the usual way of what impressed me there.
IMAX 3D
Well, if there a good movie, it must be watched with the best of all qualities. Even Dolby ATMOS wouldnt convince me for this movie watching experience, so watched in IMAX 3D here. The same place where I went and slept during the Transformer movie. 😛
This is TRULY an experience. Awesome sound quality and big picture at a better seating (H row, SHAW IMAX, SG) – it cant get any better. I jumped at few frames, screamed inside few moments, sunk in to the movie all the time. IMAX is really the maximum our eyes could catch.
CGI in the Movie
Just one of this could be right, CGI was incomparably top notch, or they tortured a full grown Bengal Tiger. Only animal enthusiast would know animal behaviours at this minute level. The details given for the "Richard Parker" Tiger is amazing and am almost sure that team is goin to fetch Oscar for visual effects. Its real, cunning and mesmerizing. Phylosophical parts were amazing. It felt like we were in a meditation hall at times.
Visual effects – definitely they bettered the climax scenes of Titanic, Poseidon etc.
There are some things lack too
While the book was serious, dark and intense, the movie is light (except those lifeboat scenes) , short. I know it would definitely a miss if I would expect it to cover all parts of the book. Suraj Sharma did a decent job but very long way for "acting". Iffran Khan soothes that pain. Tabu looks prettier than ever. 🙂
Am sure, if anyone watches the movie without reading the book, they will be pleasantly surprised.
So you got a chance, read the book, watch the movie – Think whats missing!
Or, watch the movie, read the book – Think what could have been added.
In any case, you are going to watch it!